Far Horizons Award for Poetry
2020 Winner - A.R. Kung
The Malahat Review is pleased to announce the winner of this year's Far Horizons Award for Poetry. A.R. Kung has won $1,000 for his poem, "Flight," set for publication in our 2020 fall issue #212.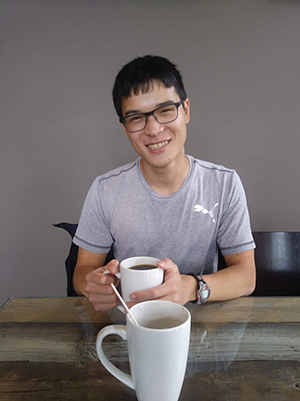 A.R. Kung's entry was selected from over 500 poems! Here's what this year's judge, Yusuf Saadi, had to say about the difficult task of choosing the winning poem:
The initial shortlist sent to me contained an impressive range of forms; many poems revealed moments of elegance. I narrowed it down to two superb poems and seesawed between them; each time I read one, it convinced me of its claim to the contest until I read the other, the final decision made more difficult because the poems completely contrasted in styles and virtues. I tried several approaches to wade into them including penning short papers and writing the poems out. I'm certain the other poem will also find a home, but after holding the poems to different lights, "Flight" excited me most: it references a 1260-year-old poem by Du Fu and develops the original's themes and registers through a form that consistently surprises and delights. The poem presents dueling visions that emerge from the title word's dual evocations — "flight" meaning both to escape and to fly — to explore the poetic imagination's power to envision the possibility of a story being otherwise, here the story of Du Fu and his children's flight from rebel forces. It also provokes questions about possible bounds the poetic imagination should respect to avoid crossing into escapism as the imagination hovers and interprets reality's palimpsest. This poem rewards sensitive reading. Congratulations to the winner.
A.R. (Alex) Kung is a 22-year-old poet from Victoria. Though he holds no degrees, he spent two years as a Writing undergrad at UVic before joining the Canadian Coast Guard. He writes out of admiration for the history and literature of Imperial China, and is working on a poetry collection written in dialogue with great poets of the Tang Dynasty (7-9th century). In 2017, he won UVic's Diversity Writing Contest in poetry, and his work has appeared in Grain. He is also a Younglife Capernaum leader and a classical pianist, and is attempting to learn Mandarin Chinese and traditional calligraphy.
An interview with A.R. Kung on his winning poem, conducted by TMR volunteer Chris Horne, will appear in October's Malahat lite e-newsletter.
Congratulations to all of this year's Far Horizons Contest finalists: Cassandra Blondin Burt, Violet Eliza-Sioux, Adam Haiun, Matthew King, Jessie MacKenzie, Rachael Moorthy, Melanie Power, Andrea Scott, Manjinder Sidhu, Samantha Sternberg, and Isabella Wang.
The Malahat Review's Far Horizons Award for Poetry runs every even-numbered year, alternating with the Far Horizons Award for Short Fiction.