Les poésies francophones du Canada:
A Translation Prize
Winner - Donald McGrath
The Malahat Review is pleased to announce the winner of its first-ever poetry translation contest. Donald McGrath has won $1,000 for his translation of Montreal poet Robert Melançon's "Elégie écrite dans le parc Notre-Dame-de-Grâce".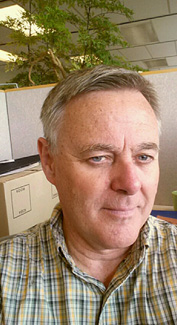 Donald McGrath
Here's what contest judge Donald Winkler had to say about McGrath's translation:
"Donald McGrath has admirably rendered the cadence and tone of Robert Melançon's limpid elegy. The poem's muted music with its judicious internal rhyme links the poem not only with its French original, but with a venerable English tradition of elegiac verse."

"Elegy Written in Notre-Dame-de-Grâce Park" will appear in Issue 188, Fall 2014 (a special issue dedicated entirely to works of translation).
An interview with McGrath will be published in the October edition of Malahat lite, our monthly e-newsletter. Stay tuned!
Donald McGrath is a Montreal-based writer/translator. He has published two poetry collections, At First Light (Wolsak and Wynn, 1995) and The Port Inventory (Cormorant Books, 2012). His poems have appeared in periodicals in Canada and abroad. His poem "Biarritz" was selected for the Web anthology of the 2012 Montreal International Poetry Prize.
Congratulations to all translation contest finalists: Julie Hamel de Belle, Karen Ocana, Andrea Ledding, Abby Paige, Catherine Lempriere, Susan Elaine Ouriou, David Noel, Brian Campbell, Joel Giroux, Valerie Kaelin, Rafael Newman.