The Malahat Review Presents
Queer Perspectives: A Celebration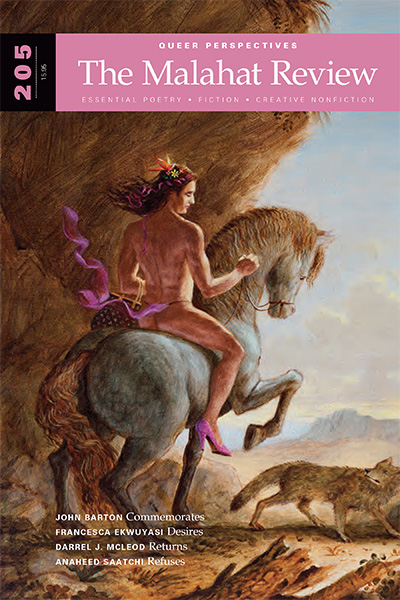 Please join us for readings and a conversation celebrating the publication of The Malahat Review's Issue #205 (Winter 2018), Queer Perspectives, which features contemporary writing by LGBTQ2S?+ writers in Canada chosen by guest editors Ali Blythe, Trevor Corkum, and Betsy Warland.
Who: Adèle Barclay, John Barton, Ali Blythe, Anne Fleming, Arleen Paré, Miranda Pearson, Anaheed Saatchi, Betsy Warland
When: 3:00 - 5:00 p.m., Saturday 23 March 2019

Where: University of Victoria (HSD* A240)
*info and map to the Human and Social Development Building
Admission: All welcome—free or by donation
Go to our Facebook event page.
The Queer Perspectives Issue and other issues will be available for sale at the event (cash only).
If you would like to purchase a print issue using your credit card, please use our secure online store by clicking on the "Print Edition" link below. You can pre-pay online and pick up the issue at the event if you wish.

*The University of Victoria is accessible by sustainable travel options including transit and cycling. For those arriving by car, pay parking is in effect. Saturday parking is $3.00. Parking info and campus maps: www.uvic.ca/maps.
The Malahat Review acknowledges with respect the Songhees, Esquimalt, and WSÁNEĆ peoples on whose traditional territory the University of Victoria stands and whose historical relationships with the land continue to this day.