A Different Beast Altogether: Vanessa Herman in Conversation with Claire Caldwell
Malahat volunteer Vanessa Herman talks with one of our 2013 Long Poem Prize winners, Claire Caldwell, about her winning poem, "Osteogenesis."
First off, congratulations on winning The Malahat Review's 2013 Long Poem prize! "Osteogenesis" takes the reader through layers of skin down to the bones. Tell us, what "sparked" this poem?
Thanks very much! I'm so honoured to win this prize. The first spark for the poem was a segment I heard on WNYC's Radiolab, about the "afterlife" of a whale. The idea of a singular animal--especially such a big one--becoming this vibrant, shifting ecosystem was compelling to me. As soon as I began writing about the whale, some other narratives and images I'd been working with were sucked into its orbit. Kind of like all the sea creatures, I guess!
M is such an interesting character, and so mysterious to only get a letter for a name. I loved the metaphor you gave her in these lines: "She peels skin, // reads pancreas, duodenum: / beloved paperback, // hometown map." Can you tell us more about M and how she came about?
I was really interested in the relationship that roommates can sometimes have, this tension between intimacy and privacy, inclusion and exclusion, and M came out of that. M and the speaker are constantly disrupting this tenuous balance--sharing and withholding secrets, closing doors on each other, accessing these hidden spaces the other can't see. While M has access to this highly standardized, medical knowledge, the speaker is running on language and storytelling--but ultimately they're both striving to understand similar things.
The technical anatomical terms mixed with the music of the half rhymes "paperback" and "hometown map" really make the whole thing pop. Can you talk about what kind of process you went through to get the poem down to such a distilled perfection? Did you have to do a lot of research on medical terminology to find those just-right words?
The poem went through several drafts, and because I was working on my MFA at the time, I was lucky enough to get valuable feedback and insight from poets Kevin Connolly and Margaret Christakos, as well as my classmates. As for the research aspect, I found that as soon as I started delving into marine biology and human anatomy, a whole new vocabulary opened up to me. Our bodies are made up of all this strange and beautiful language, down to the tiniest structures. To gain even a little access to that was revelatory.
The judges of this year's Long Poem Prize said of your poem, "Osteogenesis is a different beast altogether." There are whales, tents of skin, multiple characters, and yet the judges are right in that the poem itself is one big character, a beast taking the reader out for a stroll and a long talk before bedtime. The stanzas remind me of the breath expanding and contracting, deep and shallow. Can you talk about the form of "Osteogenesis"? Was it always written this way, or did the nature of the beast change?
Before "Osteogenesis," most of my poems were quite short--only a page or two each. I began weaving these different narrative fragments together as a way of tricking myself into writing something more sustained. And the more I worked with this form, the more the resonances among the sections grew. They warmed up to each other. It took a lot of rearranging, rewriting, splitting, and grafting to patch together the final "beast," but the basic form was there from the beginning.
I read one of your poems, "Four Short Poems About God," in Maisonneuve and found it so different from "Osteogenesis," the subject matter, the voice, the form. Can you tell us a little about yourself and what you feel drawn to write about? Do you only write poetry, or do other forms such as creative nonfiction, fiction, or playwriting speak to you as well?
Overall, I'm drawn to writing about the strangeness in everyday life, the mystery simmering just beneath the surface of the mundane--or, to reference that poem in Maisonneuve, the snakes in the walls of the house. My poems are most often sparked by a bizarre image or story that snags my attention. At the moment I mostly write poetry, but I've got sketchy plans to write a children's novel sometime in the future.
Is "Osteogenesis" part of a larger manuscript? If so, can you tell us about it?
Yes, "Osteogenesis" is part of a manuscript that will be published by Wolsak and Wynn in the fall of 2014. There's going to be another long poem, about "grizzly man" Timothy Treadwell, who lived and died among bears in Alaska, and there are several shorter pieces that explore similar themes to "Osteogenesis."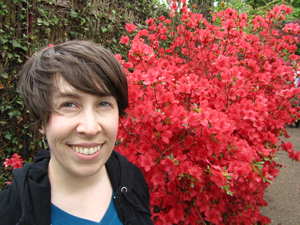 Vanessa Herman
* * * * * * * *
Read guidelines for the 2015 Long Poem Prize here.