Anxiety, Domesticity, Joy: Nevada Alde in Conversation with Martha Nell Cooley
Martha Nell Cooley, whose story "I move, gigantic" appears in The Malahat Review's summer issue #219, talks with Malahat Review Fiction Editorial Board intern Nevada Alde about auto-fiction, becoming more of an anti-racist person, and writing during the early months of the pandemic. Read an excerpt of "I move, gigantic" here.
Martha Nell Cooley is a Queer, cis-gendered white woman based in Kjipuktuk / Halifax. In addition to being a writer she is a filmmaker, a cultural worker and the current Executive Director of the Atlantic International Film Festival. She loves lake swimming, singing in choirs and wearing bright colours. Martha lives with her partner, their toy poodle and sometimes a large cat. "I move, gigantic," is her first published piece of fiction.

Writers often talk about a moment, a smell, or a song that sparks an image—an image that eventually grows into a narrative. Did you have a moment of inspiration for this piece?

I wrote this piece in June 2020, in what turned out to be the beginning of the pandemic, (although at the time of course we didn't know how long it would go on). It was also the month following the murder of George Floyd and as a white person I was reckoning with whiteness and all the horrors white people have had a hand in. Those two historical moments and the particular anxiety they caused are the main backdrop or inspiration for the story.

Another central theme that informs the narrative is domesticity. In the early months of the pandemic, we were all grounded in our homes and apartments, but at the same time these huge things were happening in the world, and I wanted to capture those extremes, when everything was so small and so monumental.

And finally, the other impulse that inspired this piece was wanting to write about the joy, or sudden manic happiness, which due to my privilege and safety, was also part of my experience of the pandemic. It's easy to write prose that tends toward disillusionment, irritation and general malaise—the world is after all on fire. But I wanted to find a way to include and unpack the sweetness of life, to craft a character who maintains hope that it is possible to connect with people and who is seeking to be in a better relationship with herself. And I wanted to be honest about the pleasure I experienced during the pandemic—joy for no reason. Or simply the joy of being alive.
The stream-of-consciousness structure really resonated with me. Is this format experimental or do you often find yourself gravitating towards this technique? If not, what is your usual format?
This story represents a leap forward for me in terms of writing style. I was in a particularly introverted, artistically focused mood brought on by the lockdowns and I believe those conditions allowed me the space to try out a whole new form of writing. I was excited by the text when I wrote it and I continue to find the stream-of-consciousness approach very freeing, so I'm glad that it's resonating with others. As challenging as the pandemic was in so many ways, as an artist I found it to be a generative time. All social obligations evaporated and there were long swaths of time with no structure so when an idea for something to write came to me I was able to give myself over to that impulse in a way that I miss now that life as we knew it has more or less returned.
There is a line in the piece that uniquely addresses identity: "They must find you. Grow on you quietly like mould." Such an interesting way to reference material items and their connection us. What connects you to your identity and grounds your sense of self?
I think a lot about how my material objects (in particular clothing and jewelry) define or fail to define me. It's a central fallacy of capitalism that you can become someone new through acquiring this or that. But during the early stages of the pandemic, I for one was more susceptible to this idea of reinvention through consumption, because there were so few ways to express or define myself during that time. I'm also not fully repentant about my attraction to material culture and I tend to reject the minimalist value system that is very in vogue right now. I have a lot of clothes, and I don't feel bad about it—it's part of who I am.

The passage also speaks to the idea that objects become significant through use and through memory in a way that is almost subconscious. One day you realize that you've been wearing the same sweatshirt over and over and it's become part of what it feels like to be you, it's the visual background to your days, it's the shape and texture you present to the world, but when you bought it or when your first put it on you didn't know it would become that important.
Writing can often challenge us in a number of ways. What would you say has been your biggest writing challenge, whether personal (ex. trying reach a large goal) or professional (ex. pushing through writer's block to meet a deadline)? On the other hand, what has been your greatest success.
One thing I've been trying to do is to write about whiteness in a way that feels authentic and relevant. I don't want to write from the lens of default whiteness. I want the ethnicities of my characters to be acknowledged because it's a huge part of how people are in the world, but I've also struggled to figure out how to do that. And I realize my writing about race as a white person will only ever be as thoughtful as I am, so it's more of an internal struggle to become more of an anti-racist person in order to write about race in a way that doesn't do harm.

In this piece I'm writing from the perspective of a white person, which is acknowledged so that it's not assumed, and then I'm also trying to include characters with other identities and acknowledge them as well. And I don't know why it feels so hard to do that. Oh, wait I do. It's because of centuries of racism. Anyway, I haven't figured any of this out, I just wanted to say that that's a central challenge that I'm engaging with. And it feels both terrifying and essential.
What would you say is your go-to genre of books to read? Which writers or books have influenced your own style and voice?
Auto-fiction! A few years ago, I attended an emerging writers' program at the Banff Centre for the Arts taught by author Rachel Cusk, and she gave us writing exercises which encouraged us to write in a genre I now know is called auto-fiction. That was my first experience working in that format and I continue to be excited by the possibilities it offers both as a writer and a reader. There is an unexpected liberation in using elements of your own life, the bits that before didn't serve any purpose, and creating something fictional out of them.

I am inspired by books like, "This Accident of Being Lost" by Leanne Betasamosake Simpson, which combines narrative and poetic elements; "Having and Being Had," by Eula Biss, which is non-fiction and blends personal and historical/factual elements in topical essay chapters; and Sarah Manguso's "Ongoingness: The End of a Diary," which is comprised entirely of short personal essays. Other writers that I love include Maggie Nelson, Lydia Davis, Olivia Laing, Ottessa Moshfegh, Miranda July, Sheila Heti, Claire-Louise Bennett, Jenny Offill and Rachel Cusk. I admire the way these authors explore the banality and the grand sweep of female experience with an honesty and rawness that feels new.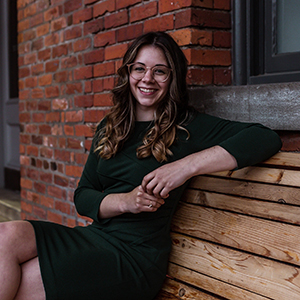 Nevada Alde
* * * * * * * *