Uplift the Craft: Stephen Leckie in Conversation with Francine Cunningham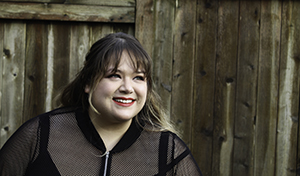 Malahat Review volunteer Stephen Leckie talks with Francine Cunningham, 2021 Far Horizons Award for Short Fiction contest judge, about her upcoming collection of short stories, where her writing ideas come from, and her process for submitting to contests and regular submissions.
Francine Cunningham is an award-winning Indigenous writer, artist and educator. A graduate of the UBC Creative Writing MFA program, Cunningham's work was shortlisted for the 2018 Edna Staebler Personal Essay, won the 2019 Indigenous Voices Award for unpublished prose, won the 2018 Short Grain Writing Contest, and she won the 2019 Lina Chartrand Award from CV2 Magazine. She is a recipient of a Telus StoryHive Web-Series grant, and one of the 2018 Jenni House Artists in Residence in Whitehorse, YT.  Her fiction has appeared in The Malahat Review and on TMR's Far Horizons Award for Short Fiction shortlist, in Joyland Magazine, The Puritan Magazine and more. Her creative nonfiction  has appeared in The Malahat Review, and Best Canadian Essays 2017 from Tightrope Books. Her poetry has appeared in Poetry is Dead Magazine, Room Magazine, Hamilton Arts and Letters and more. ON/Me is her first book of poetry and has been nominated for the inaugural BC and Yukon Book Award Jim Deva Prize for Writing that Provokes and the 2020 Indigenous Voices Award in Poetry. Francine has a book of short fiction forthcoming with Invisible Press in 2022. Francine also sells her visual artwork and beadwork at DemarcationLines.etsy.com and you can find out more about her at francinecunningham.ca
Your stories have won awards and made shortlists in literary writing contests. What is your process for submitting your work?
First thing I don't do is write a new story for a contest, because that would mean for me that I am writing in a panic and it probably won't be my best work. I instead look for the word length of a story contest and look to see if I have any stories in my completed edited file that fit that length, then I go look who the judges are and get a feel for their writing style. Contest submissions can add up really fast money-wise so I want to be smart in where I submit.
In terms of general submitting I read the magazine or journal to determine if my writing would fit what I think they're looking for. Then it's just luck of the slush pile. I also don't send out brand new work, I instead always give a story a few years to simmer and be revised over and over before it gets into my completed edited file of stories. Once it's in there though, I am very confident in the story and I like to have a bunch of ready-to-go stories at my disposal.  
As a judge, what are you looking for in a winning story?
I am looking for a story that excels at the craft level, one that plays with structure and form, and as cliché as it may sound, is exciting. I want something that plays and bends reality in a way that uplifts the craft of the story.
In ON/Me (Caitlin Press 2019) you speak to readers who may struggle with identity. How does your fiction interrogate challenges with other/self? Do you look for stories that reveal the author as their own subject?
Not particularly, I've never really considered it. My fiction may have elements of my lived experience in it, in the small details, like the cracked peeling pink linoleum in my mother's house, but a lot of the times my fiction is just that, fiction. My ideas come from my dreams, from conversations I overhear in the world, from the weirdest places on the internet. 
Your short story collection, God Isn't Here Today, is forthcoming in 2022 from Invisible Press. Did submitting to literary journals and contests help you pick the stories for your collection?
I wanted to craft a narrative within the entire book that is comprised by all the stories so as I was going through my stories and ordering them I kept that narrative in my mind. I wasn't concerned with which stories were award winners, or contest finalists, or published, I was more concerned with the story the collection was telling as a whole. There will always be more collections and more opportunities for stories to live in them.
How has your role as an educator and visual media creator inspired your literary writing?
With ON/Me I was focused on writing for the Indigenous youth I work with, and in the novel I am working on that is also the audience I am writing for. I mean I hope that lots of people connect and find meaning in my work but for these two projects I really hoped that youth would particularly connect.
Are there any books you are enjoying at the moment?
I am enjoying nonfiction books that explore pandemics honestly, I dunno, for me looking at the past is helping me get through the present.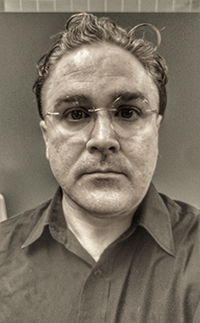 Stephen Leckie
* * * * * * * *