A Delicious Darkness: Samantha Ainsworth in Conversation
with Lenea Grace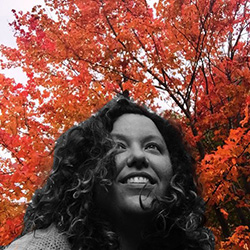 Malahat poetry board member Samantha Ainsworth talks with upcoming Summer issue contributor Lenea Grace about the human condition and musical influences in her poems "Farmhouse-Side A" and "Auld Lang Syne, etc."
Lenea Grace's debut poetry collection, A Generous Latitude is forthcoming from ECW Press in Spring 2018. Her work has appeared in Best New Poets, The Fiddlehead, Washington Square Review, and elsewhere. Lenea is a founding editor of The Mackinac.
Your poetry is so chock-full of sensory details that one cannot help but be transported into the poems' realm. How does a poem come to you? Do you create a poem by building it around an image or memory or does it unfold before/within you, as with your recent Malahat poems, "Farmhouse-Side A" and "Auld Lang Syne, etc."
Often a phrase or image will loom in my mind for weeks, months, even years before I figure out how to build off it and make a poem. I'll start by typing (always typing, never longhand—I need to see how it looks on the page) phrases and lines—that might take up a few pages before the actual poem starts to reveal itself. I have my muses—you'll see I revisit the same tropes, invoke repetition to beat a horse well dead. "Auld Lang Syne, etc." is a companion poem to a piece I wrote about nine years ago—it shares the shape and scope of its brother.
Where/how were your formative years spent? How might these experiences flavour your poetry?
My family moved frequently when I was younger. I'm Canadian, but I primarily grew up in the south—Texas and Oklahoma—and spent summers in northern Ontario. I've always been a voracious reader—the kind of kid who couldn't eat a bowl of cereal without propping a book up on the kitchen table. As an adult, I haven't settled down in any one spot for long. Travel and transportation feature heavily in my work.
Are there poems or particular poets from your childhood that you derive similar pleasure from as an adult?
Of course. One of my earliest school memories is copying the first stanza of William Blake's "The Tyger" from the blackboard in grade two at Silchester House School in Taplow, Bucks, UK. Shel Silverstein, Jack Prelutzky, and Roald Dahl delight me now as they did then. I still go back and back to Eliot's "The Love Song of J. Alfred Prufrock" like it's 1997 all over again and I'm sitting in Mrs. Langston's high school English class. Robert Service was a family favourite—and the Penguin Book of Sick Verse travelled back and forth from the shelves in our family room, nestled above my father's record collection, upstairs to our rooms for bedtime reading and recitation.
There's a delicious darkness that lurks beneath the surface of your poems. In "Farmhouse -Side A" and "Auld Lang Syne, etc.," the relationships are adeptly revealed through lovely descriptions and details: "...homemade pizza and fire / Emmylou on stereo surround–1976" and "In Montreal you ran shirtless and sweating, over the mountain–under a cross." Also, among favourite lines, an end surprise (your speaker's inner voice): "…tonight you delight me with isms / (I can't let you get away) with. / Has it been seven years? / I like your beard." Criminy! Risky poetic move, but you nailed it! Throwing that humorous, quick glance and comment re: the "beard" in there, smack on. Such honest, non-apologetic poetry lures us, the reader in. After all, isn't that what good writing is all about, giving new meaning to life and its situations, showing the human habit in a unique way? Question: As a successful, published poet, do you ever consider where the line might be drawn? Or will you continue to boldly leap across this line with a pocketful of honesty and tantalizing revelations dangling just barely from your readers' reach?
You are kind. I'm committed to writing (and publishing others' work, as in The Mackinac) poetry where the stakes are always high. The human condition is the heart of the matter, as far as I'm concerned. So when you say "the line," what do you mean? How far is too far? How honest is too honest? I don't know. But I'd caution readers against assuming poetry to be confessional, though truths can stem from fiction and vice versa. I feel like I just gave you a politician's answer—ha! Short answer: I delight in leaping.
Recording artists are featured in your poetry on a first name basis. i.e. Emmylou and Waylon. What is your relationship with music and how might it overlap with your journey as a poet? How might nostalgia influence the immediate?
Music is my first true love. It drives and influences most things in my life, if not all of my writing, in one way or another. I listen to it when I write; I use lyrics as jumping off points to inspire my own work. If I could ever write a poem that evoked even half the feeling of "Ballerina" by Van Morrison, I'd be satisfied. Haven't gotten there yet.
People freaked out when Bob Dylan won the Nobel, but I didn't. Blood on the Tracks is a goddamn book, a roman à clef gone south in ten songs. "Desolation Row" from Highway 61 Revisited is a poem. "Visions of Johanna" is a poem. And how about "Changing of the Guards," forever torn between Jupiter and Apollo?
And yes, music itself is both nostalgic and immediate for me. It transcends time and place. If you were to play T-Bone Burnett's ballad "River of Love," you'd be my father, behind the wheel on a warm May night in Edmond, Oklahoma. "Moonlight Mile" by the Rolling Stones is Montreal, 1999, writing a final paper in a shitty apartment with no heat in December. Gillian Welch's album Soul Journey is the ribbon between Vancouver and Calgary, driving stick for the first time in 2004. I often say that I wish I could listen to a song for the very first time again—to experience that kind of adolescent glee that wanes with age. The last discovery to give me that kind of pleasure is Terry Allen, a Texan pianist from the 70s.
Lenea, you are the editor of an online poetry magazine called The Mackinac. Please tell us about The Mackinac, its evolution, and the way it has merged with other media forms.
The Mackinac is a boutique poetry magazine I started in New York with my dear friend and co-editor Brookes Moody in 2013. I went through a dry spell in publishing my own work and wanted to stay current, as did Brookes. So we went for it, and four years later, we're still going strong, publishing 3 to 4 times a year. We showcase the work of 7-8 writers in each issue, as well as an interview with a featured poet. The mag has evolved to include The Mackinac Liquor List, wherein we pair cocktails and other libations with the poems within. Of course, we advise our subscribers to #PleaseReadResponsibly. We also think music and poetry are the best of bedfellows and so our Companion Playlist was born. Each playlist captures the tone of the issue. Very Mackinac.
Your debut poetry collection, A Generous Latitude is set for release by ECW Press in the spring of 2018. Can you describe this book, its themes, and your process?
A Generous Latitude is a tugboat, really—a stout vessel skimming the fat of the land. This poetry collection maps a series of relationships within a greater exploration of Canadiana, barreling through shield and crag, river and slag. Although A Generous Latitude is strongly influenced by the landscape at large, the book is primarily concerned with the human condition, toying with juxtapositions of the serious with the silly, the irreverent with more somber realities. A Generous Latitude is not afraid of beer, bears, internal rhyme, David Hasselhoff, sediment, or sentiment. It does, however, eschew sliding down lampposts, CBC sitcoms, McGarrigles, and the sentimental. And no surprise here, music both teases and generates the poems within the collection. Here, Guy Lafleur's hockey-disco hybrid album is on par with the Righteous Brothers and Fleetwood Mac. Here, "I'm not smoking and it's not analog, / but at 2 am, it is always 1979." A Generous Latitude takes a wild, peculiar joy in supplanting the expected with imagery that lights the mundane and "strips the Atlantic bare." All this to say, I wrote most of the book as part of my MFA thesis at The New School in Manhattan. I never blatantly wrote about Canada until I moved to New York—somehow, a separation was needed to provide the space to write. Now that I am back in Canada, I'm working on my next collection and so far, it has heavily played on my experiences growing up in the American south. Funny that.
Are you a pure poet or do you dabble in other genres?
Oh, I dabble, but I'm a poet at heart. I have an unpublished novella under my belt, and for years have been sitting on the first 70 pages of a middle-grade novel about summer camp. Procrastination is my bag. That's why poetry is so appealing to me—the horizon's always within sight.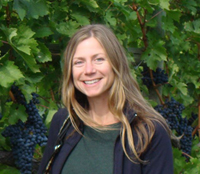 * * * * * * * *