Wild Multiplicity: Kathy Mak in Conversation with S. I. Hassan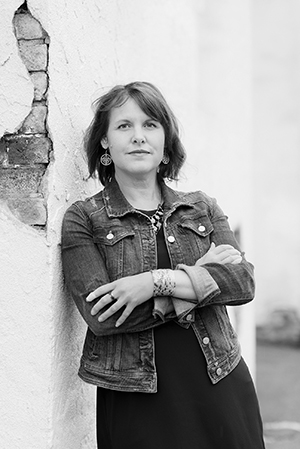 Volunteer Kathy Mak talks with S. I. Hassan, whose essay "Preparing the Eulogy" appears in our spring issue #222. They discuss metabolizing complex feelings, her interest in the myth of Inanna, and writing as a way to process memories and grief.
S.I. Hassan is an Egyptian/German immigrant, settler and uninvited guest currently living on Lekwungen territory. She doesn't know if her grandmothers are rolling over in their graves or cheering her on.

"Preparing the Eulogy" is written in fragments, but these fragments mirror the way memory works—how certain moments are retained clearer than others and not necessarily in chronology. Layered like an onion, each fragment reveals the fluctuating nature and complexity of a father-daughter relationship that can feel exposing and vulnerable. What was the process like for writing this piece? Were there moments that you found easier or harder to write than you initially thought?

Right after my father died, a whack of memories surfaced and writing this piece was part of my grief process. It may have been an attempt to hold on to him a little longer, and a way to free myself to tell the stories about some behavior I'd covered up my whole life. In my first draft, I had titled each vignette with the kind of memory I had: sad, funny, confused, etc. When I went into revision, I wanted the memories to stand on their own without my interpretation: simple snapshots of time and place. Writing about his violence was obviously tough but it was equally challenging to write about his kindness and feel my tenderness for him. I didn't just lose my father, who loved me deeply and imperfectly, I also lost my living link to Egypt and my visible identity as an immigrant. This is one of several pieces I wrote about him in the year following his death.
The opening description, "grief is messy and churning...you drift alone in a violent sea while your memories sink into the deep" is eloquent and true. There is confrontation within the self before we "show them [the] scars after they've healed[.]" After writing this piece, has it lightened or released what you were feeling? Or did it open up a nest of unanswered thoughts?
Eulogies are there to remember the dead and help the living process their loss, but there's an understanding that we omit details that paint the deceased in an unflattering light. If those memories are included, they generally do so lightly and with humour. My father was beloved by his community and most of his friends and associates could not have imagined that he was also unpredictably violent towards his family. There was a tacit expectation in our family to receive his abuse and not disclose it. My father was a walking contradiction; generous and petty, caring and violent. Writing this piece (and the others I wrote during the year) helped me metabolize my complex feelings of having and losing him as my father. The scars that have healed look like acceptance of his wild multiplicity.
There's a line in the essay where you question "Why didn't you teach me Arabic?" In one of the ending fragments, you convey you take your father's journal on the condition you never get it translated. Language seems to be a potent element the narrator has yearning for. Have you learned/considered learning to speak, read, and write your ancestral languages? What does language mean to you?
I grew up hearing Arabic. Sometimes, I'm surprised that I don't know the language. Most of my father's friends were Egyptian or Lebanese and the musicality of Arabic inhabits my cells. I've taken the first step towards learning Arabic at least a dozen times in my life. I feel a conflict between wanting to lean in and claim my heritage and sticking with my father's wish for me to be an assimilated Canadian. As a third culture immigrant, there's a fractured sense of belonging to any culture. I have a romantic idea that learning Arabic could weave me into this part of my lineage and might reveal some of the ways I've been mysteriously imprinted. Although I do have a longing to know Arabic, at this point, I lack the commitment.
Besides creative nonfiction, have you worked in other genres or creative mediums? What inspired you to create this piece and where else do you draw inspiration?
This piece and much of what I wrote in the year following my father's death were a bit of a departure for me. My work, though often personal, tends to focus on the multiple crises and collapse of both nature and culture. I'm a multi-genre writer and work in creative nonfiction, screen, poetry, and the rare piece of fiction. I have a particular interest in Mesopotamia and how modernity exists as a consequence of the decisions made there. I have written essays and a screenplay about the ancient myth of Inanna, a Sumerian goddess who travels to the underworld, and draw parallels from her myth to contemporary society. "Preparing the Eulogy" came out of a class I took on memory and creativity. Because of the hurt it could cause my family, I chose a pseudonym for publication.
What are you working on and/or reading at the moment?
I'm starting an MFA this fall and will work on a longform project about how capitalism turns parents against their children's best interests. Lately, I've been writing on how the state influences women's pleasure and sexual agency, but I don't quite know where that is going. The last book I read was Harrow by Joy Williams. I'm currently reading Hospicing Modernity by Vanessa Machado de Oliveira. Next up are Ducks by Kate Beaton and The Argonauts by Maggie Nelson.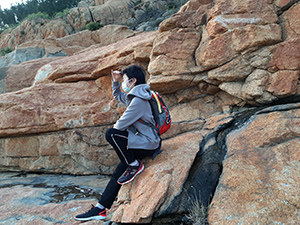 Kathy Mak
* * * * * * * *