Full Circle: Emma Pickering in Conversation with Philip Huynh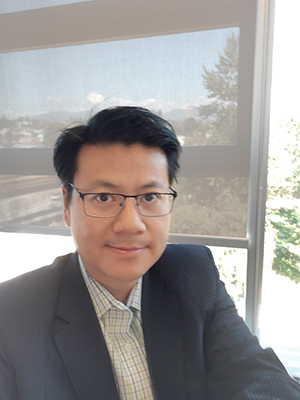 Malahat Review volunteer Emma Pickering talks with the 2021 Open Season Awards fiction judge—and 2011's Open Season Fiction winner—Philip Huynh about what he's looking for in a winning story, how a short story is like a stick of dynamite, and balancing work, family, and writing.
Philip Huynh is the author of the story collection The Forbidden Purple City (Goose Lane Editions, 2019), which was shortlisted for the City of Vancouver Book Award and for the George Ryga Award for Social Awareness in Literature. A manuscript of the collection was the co-winner of the Jim Wong-Chu Emerging Writers Award. His fiction has been published in numerous literary journals and two editions of the Journey Prize anthology, and cited for distinction in The Best American Stories. A graduate of the University of British Columbia, Huynh is also a practising lawyer. He lives in Richmond, B.C., with his wife and twin daughters.
Your 2019 debut book, The Forbidden Purple City, is a collection of short stories. What do short stories do for you that perhaps poetry, creative nonfiction, or the long-form novel does not do?
Stories are about relationships, and compression is naturally the short story's great advantage – think of a can of worms or a stick of dynamite. Pack your characters into those brief, tense moments when everything is about to change, then light the fuse of conflict or desire. Those bursts of insight or emotion that follow are impossible to sustain over the course of a novel – and those explosions are sometimes all you want as a reader. There are stories a few pages long that, years after I've read them, have stuck more vividly with me than many novels that I have spent weeks with.
Short stories have also helped accelerate my development as a writer. I've been able to experiment with different voices and different themes, without having to commit to any single approach that writing a novel requires. It also got me involved with the literary ecosystem early on, with journal editors and readers, before my first book was published. Last year at a festival I met a debut author of a novel who was petrified of reading and doing a Q&A in front of an audience because she had never done it before. I was fortunate enough to have a few of those under my belt through publishing stories over the years.
Many people who work full-time jobs can find it difficult to find the time to write. As a practicing lawyer, how do you balance your work and creative writing? What is your writing process like?
Routine is key. I write at the bookends of days, either at the start or the end of one. I make sure to spend half an hour or an hour writing everyday, but I don't have a word count or any such quota. I consider it a victory if I can wring out even one true sentence in a sitting.
In a way, writing is the ideal craft if you have competing demands on your time. You can write anywhere, whenever, and no one is breathing over your shoulder. No urgent deadlines (except November 1 for the Open Season contest!). Solitude is key, which admittedly can be a rare commodity.
Patience, too, is key. You have to be generous to your art, to give it as much time and energy, and sometimes the distance necessary to get it right. It took me about a decade to write and publish my collection.
Now, balancing work and writing is one thing – balancing work, family, and a writing career is quite another, especially during the publishing cycle. I have to admit that it was tough trying to fit in readings, cross-country festivals, and promotional interviews on top of normal life. I have stories of trying to get a few moments of sleep on a red eye flight before heading straight from the airport to a festival panel. But I'm not complaining. I was extremely lucky to have published my book in the year before the pandemic, and I feel for the debut writers this year who weren't able to have the experiences that I did.
Covid has got us stuck at home these days more so than ever before, and for some this might mean more time for reading. Is that true for you? What are some of the best books/stories you've read so far this year? Can you name a short story that has stayed with you after you read it and explain why?
I haven't had a whole lot of free time during the pandemic, so reading remains a precious luxury – whether it's a few pages before bedtime or an audiobook on the drive to work. I'm currently engrossed in The Line of Beauty by Alan Hollinghurst, an aristocratic social comedy set in Thatcher's Britain. The prose is chatty and elegant, but the fix for my current social deprivation are with these fancy-pants parties – scenes of MPs and their spouses elbow-to-elbow in drawing rooms, while their twenty-something kids are upstairs smoking and drinking sherry in their unbuttoned tuxes and gowns, all squeezed together at the foot of someone's bed – doing precisely what would get you fined these days by the public health officer. Reading the novel is an ironic form of escape from our present collective isolation.
As for short stories, I'm still recovering from bingeing on over 600 of them earlier this year as a reader for the CBC Short Story Prize. Two from the longlist have stuck with me – "Liking It" by Hollie Adams and "The Schmiss" by Kate Timmers. The first is a high-concept, hire-wire act about living life for the sake of the Instagram post – hilariously sad and of the moment. The other starts off quietly and timelessly, about an expatriate mother in a German university town neglected by a husband who's taken up cycling, but its precise, enduring writing builds up to a devastating, surprising crescendo. Guns are involved. Those are two very different approaches to the story, but both were successful because the artists had committed wholeheartedly to their unique visions.
In 2011 you won the Open Season Award for Fiction for your story, "The Investment on Dumfries Street." How does it feel to now be a judge this year for that same genre and contest?
The Open Season Awards started it all for me. I still remember dropping the manuscript into the red Canada Post mailbox by my local Shoppers (do people still do that?) and having no idea where it would lead – to my first story published in a major literary journal, which eventually became the opening story in my published collection. I got to work with my first editor, Rhonda Batchelor, did my first interview, and was even invited to Victoria by the journal to do my first reading. So to be able to come full circle as a judge is such a huge privilege. It's also a responsibility that I do not take lightly, because I know what an important opportunity winning this is for an emerging writer.
What are you looking for in a winning fiction piece for the Open Season Awards this year?
At a minimum I'm looking for a story that distinguishes itself in some manner of craft – crackling dialogue, well-wrought sentences, vivid imagery – these are the bones and sinew of a good story. The great ones also have personality – an indelible voice, or an unforgettable character or two that pulls me completely into their lives, so that their moment becomes a part of my memories. So craft is a must, personality is a plus, and if your story also has novelty – whether it's an idea, an approach, or something else that catches me off guard – well, that might get you over the top.
So give this contest your best shot. Give me the piece that you workshopped ten times over and have honed to perfection. Or give me that story you love but have shoe-boxed from prying eyes because you think it's too weird and no one will understand it. You never know, you might be doing the world a favour.
What are you working on right now?

Like most short story writers, I'm currently working on a novel. An excerpt of it is available online as part of The Scales Project, a timely and important series of multi-disciplinary conversations about ecological collapse developed by my editor Bethany Gibson. Check it out here: https://thescalesproject.com/.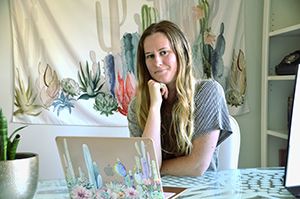 Emma Pickering
* * * * * * * *