Do the Work: L'Amour Lisik in Conversation with Jason Jobin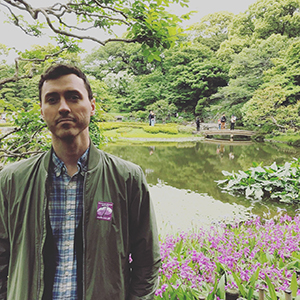 Jason Jobin, whose short story "Triage" appears in The Malahat Review's autumn 2019 Issue #208 as the winner of the 2019 Far Horizons Award for Short Fiction, discusses revision, writing stories within stories, and the risk and reward of setting a story during a well-known holiday in his Q&A with Malahat Review Publicity Manager L'Amour Lisik. Read an excerpt of "Triage" on our website here.
Jason Jobin grew up on an acreage in the Yukon. He completed a B.A. and M.F.A. in writing at the University of Victoria, where he studied fiction and screenwriting, and developed his own course on how to rap. His fiction has won The Malahat Review's Jack Hodgins Founders' Award and a Silver at the National Magazine Awards, and has been longlisted for The Fiddlehead Prize. For him, writing is a place to show the fallout of people in suddenly new situations, the moments that wake you up and that you think back on when falling asleep. He currently lives and writes in Victoria and is working on a short story collection and novel.

First of all, congratulations on winning the 2019 Far Horizons Award for Short Fiction! "Triage" has themes of loneliness and masculinity, hints of mental illness and the stunted feeling that sometimes plagues small-towns. "A lot of guys don't have guys they can candidly talk to, not in that town, with its kind of fragmented male histories, how everyone knows everyone, but still is lonely." It contains so many stories within stories. Is this a technique you consciously brought into "Triage," or did it happen on its own?
Growing up in the Yukon definitely familiarized me with such themes. Ideas of isolation. A precariousness. The cold as an adversary. I think small towns do tend to attract lonesome male figures, men not suited for urban centres, uncomfortable with the speed of them, or something, men pushed ever outward. In terms of stories within stories, it's kind of like punching a hole into another world.  Once you've established the base-story, and you need to do this well for the technique to really work, any subtle reference to another story within those characters' lives—a past event, a fantasy, a rumour— will somehow keep all the weight of the base-story with almost none of the bulk. If a reader believes in a character, they will believe their stories. The danger is if you haven't earned it, like with anything in writing. If the reader isn't buying in to the main layer of story, any offshoot stories will only draw attention to themselves, and not the good kind. You need to be diligent.
You've been nominated for the 2019 Journey Prize for your story "They Would Pour Us into Boxes," and last year you won a Silver National Magazine Award as well as The Malahat Review's 2018 Jack Hodgins Founders' Award for your story "Before He Left." Do you have any advice for emerging short story writers?

Write novels. But more seriously, you must do the work. Trust me; I've tried every conceivable way to not do the work. Humans like to just be done with things, and story writing is a thing where you are almost never done. You can do the work sidewise, or upside down, or while on fire, but you have to do the work. And for me, this work is in revision. Revision is very sneaky and duplicitous. The main way I lie to myself while revising is that, when visualizing my progress on a story or considering its doneness, I focus only on the few parts that are already good, that came easily. Classic work avoidance. In my mind, those already-working parts glow. The other parts of the story, the parts that maybe don't make logical sense, or have terrible broken rhythms, or have a curious repetition of the word clandestine, these I ignore, gloss over, consider only in the vaguest terms. And it's always these mentally glossed-over sections that need tons of work and are holding the story back. The amount of work is always more than you expect, more than you want, maybe more than is healthy. Beyond that, I'd say focus on conflict, by which I mean focus on structure and having your characters make actual decisions. The first paragraph needs to do some heavy lifting and should likely be the most drafted and obsessed-over segment of the story. Romanticism aside, the front-liners, first readers, interns, they are not reading whole stories. Who could? There is too much.  They need to love that first paragraph. It doesn't matter how great the rest of your story is if no one ever reads it. Finally, submit everywhere. Everywhere. Every contest. Oh, and read well, and widely, and all the time.

"Triage" juxtaposes the faux-gore of Halloween with the horrible details of an infestation and, later, a car accident. It's fitting that your story is slated to appear in Issue #208, in circulation around the end of October. What made you want to set this story during Halloween? 

This is an interesting question because the contest judge, Mehdi M. Kashani, mentioned in his comments that setting a story around well-known holidays or events can be risky. He's not wrong—you need to be mindful when doing this, for reasons of cliché, for reasons of boredom. But these known events are also an opportunity. Again, it comes down to this idea of stories within stories. When you set a story at a Halloween party, and if we can agree that a story is a conversation, part of this Halloween conversation takes place in the past, in a space beside or below or parallel to the story, because everyone has been to a Halloween party. This frontloads the drama. A reader will know the tendencies of people at these parties. They will know their own histories at them. And this gives you, as the writer, something to push against. This idea of an already existing conversation is why I think stories set at familiar events are often the most tragic, the most comic—the context is already there, the despair/joke has been set up, is on the cliff-edge, ready to spill over. Caveat that these contexts are culturally dependant; not everyone has been to Halloween parties; know your audience. More specific to the story, by setting it during Halloween you have all these nested ideas of identity, masquerade, taking on new personas, grotesquery, and all that isn't done by me, the writer, it's done by simply saying: It's Halloween. This is how you begin halfway through. Writing, for me, is about efficiency.
Do you have any upcoming writing projects you're working on?

I'm currently working on a collection and two-ish novels.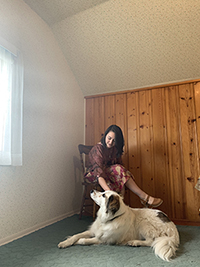 L'Amour Lisik
* * * * * * * *