Another World: James Kendrick in Conversation with Conor Kerr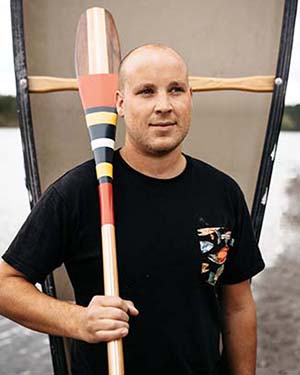 Conor Kerr, whose poem "Directions to the Culture Grounds" appeared in The Malahat Review's Spring 2019 Issue #206, discusses collectivism, chopping wood, and reconnecting with his community in his Q&A with Malahat Review volunteer James Kendrick.
Conor Kerr is a Metis writer/educator, raised in Buffalo Pound, Saskatchewan and connected to the Lac Ste. Anne community. He's a student in UBC's MFA program and works at NorQuest College's Indigenous Student Centre. When not working or writing Conor canoes, hunts, wrestles dogs, and harvests on his ancestors traditional territories. He's passionate about creating a new narrative around urban Indigenous youth and connecting them to culture and community. This is his first published work ever.

In your poem, "Directions to the Culture Grounds" geographical space takes on great significance—I'm curious about the destination of the directions given in the poem. Could you talk a bit about this space, what it is, and why you chose it as the subject of this poem?
It's all about the land. I felt so lost for so long without knowing why and now I believe it was directly because of a lack of/absence from my Metis culture and that I belong and need to be/walk/harvest in my traditional territory. I spent most of my university years pretending to be someone I wasn't, which basically just led to me being an asshole alcoholic. That guy at the party. So despite that I stumbled into this space through what I strongly believe wasn't just luck but an invisible gust of hot snotty moose breath pushing me forward, and met Bob Cardinal, an Elder on Enoch Cree Nation. He helped me so much in reconnecting back with my family, the community, my self, and building back up my confidence in who I am as a Metis person. And through all of that we cut wood out at this space, we participated in ceremony, we hunted moose, we wandered through the woods, fought with generators and disappearing tools, ate good food, and chopped more wood. When I worked on Enoch and needed a break from the traumas of my job I would just drive out here and sit down in the snow and imagine flocks of cranes spiralling up above me. It's all about the land. I feel very fortunate that I've spent most of my life around Cree and Metis Elders and been able to learn from them and to hear their stories and words.
Using Google Maps, I was able to follow the directions given in the poem, and find the location you describe. I was struck by the fact that, in satellite view, it's even possible to find small details listed in your poem, including the dilapidated lodges and the circular shack depicted in the climax. The orange pylon marking the entrance can even be seen close up in street view on Township Road 523. So in a sense, your poem can literally function as directions. However, is there also a sense in which this poem consists of directions to a figurative space, despite the inclusion of such a great number of factual details regarding location?
You know when I first wrote this thing up I really struggled with whether I should use actual directions or just make it up. I asked Bob, and he said, and I'm not doing justice to his words here, but he told me something along the lines of: "even stories need truth in them." We discussed it a bit more and the thing with this space is it carries huge importance for teachings in the community and into Amiskwaciy Waskahegan. I've been out there keeping the fires going while Bob and his oskapeyos work with groups of government staff, social workers, families, educators, program administrators, private organizations, politicians… it goes on and on.
I've always admired the transformation that happens to people when they come out here. Even though it's so close to a city of one and a half million people you feel like you're in another world, and really you are when compared to the concrete jungle office environments that people are spending their days in. I'm not sure what it is but I think it's the noise. There's a difference between sounds of sirens and motors and hearing the wings of the ducks passing overhead at first light, or the wind moving through leaves and old willow that's gone back to the earth. I've enjoyed sitting back and drinking a big cup of percolator coffee and watching some of these suits, professors, students, build intense connections with the trees around them. You can feel the love passing between them. But I can't help but feel so much disgust that these connections have been taken away from Indigenous Peoples and that right now there are youth that will never feel that and they have every right to feel that.
The two sections of your poem are titled "Social Worker Version" and "Elder Version." From your bio, I can see that you have a rather extensive background in social work yourself. Is there an extent to which this poem is a form of self-critique?
I never worked directly as a social worker. I worked in or around social work offices as an Indigenous community liaison, mainly with Paul, Enoch and Alexander First Nations. As someone who worked with front line social workers I have all the respect in the world for what they do, especially Indigenous social workers, who have a whole other burden placed on them that I won't get into here. One of the main duties in my job when I was out there was creating cultural connections for Indigenous youth. I brought a lot of these youth out to this space. There, they had the opportunity to see something so so different than the lifestyle that is all around you when you're a 15 year old Metis guy in a group home. You see other young guys, they're chopping wood, man that's all I do is chop wood, and it seems like what kid would want to do that. Then you put an axe in their hand, show them how to swing it without taking their knee out and, oh man, how their faces just light up. It's contributing back to the community, something that's so inherent in our youth but has been systematically forced out over generations. They want that collectivism, that sense of being a part of something, being a part of something great and they are because every breath they take is a breath of resistance for even being here. If I help one youth have a better future where they're more confident in who they are as an Indigenous Person then I'd consider everything I've ever done a success.
Anyways, I'd be trying to bring kids out there and relying on social workers or foster parents or group home workers or whoever to get them there. And I just noticed how different it was between the directions you would get on the phone from a knowledge keeper over those from a government employee through emails. I know I mention social workers in the poem but really it could be anyone who works outside of the land and stories. It's just so technical, so abrupt, it loses the rhythm and cadence of voice. I'm feeling a bit of that even typing this up. I tend to write like I talk. I believe that those words translate off the page too. If you're reading something that doesn't have feeling, have the intent, have the thought behind it then it's going to come across as shallow. Unfortunately, I think a lot of people read into things like the social worker directions in this poem when they receive them in their own life and automatically downplay it. When really there is such beauty and history in every little word and it can be told like so. Why can't we tell our stories and our families stories in emails or conversations? But that being said I'm sure my coworkers at the College I work at don't want to get emails that go right into the history of my family in the Edmonton area every time they ask for help with protocol.
I realized that doesn't really answer your question. So now that I went on that ramble, I think it's more of a reminder than a self-critique. I'm being told by Elders all the time to slow down, that I move too fast, that I need to remember the purpose and the intent and to really think about it. Last year I broke my leg really badly, snapped my ankle and both bones in the lower right leg. A couple knowledge keepers from Enoch and some buddies came over to my house to have a pipe ceremony and they were just making fun of me the entire time, "see when you didn't slow down the creator made you slow down," one of them said. Good people.
At what point did you begin writing poetry, and what motivated you to do so?
Oh I wrote so much emo shit when I was in high school. I basically just copied Alexisonfire, Taking Back Sunday, and A Day To Remember lyrics out and changed a few words and told people I was a $!pOeT!$ in my MSN Messenger status. And honestly my motivation was probably to try and impress all the incredible women in my life, including my grandmothers, aunties, mother, teachers, and my friends at the school. I come from a matriarchal family where my grandmother was, and still is, the boss of everything. She's also this badass storyteller who was raised by her granny in the bush of Northern Alberta. I was fortunate to grow up with her. She's very proud to be Metis and to carry those bloodlines back to the Manitou Sakaheganak area. One thing that always stuck with me from her is the resiliency to always tell a story no matter what.
The only reason I finished my undergraduate degree was because of poetry courses taught by Christine Stewart (she just published an unreal book of poetry, Treaty 6 Deixis) and knows this space I wrote about here well. It took me a long time to understand some of her courses and what she was trying to expose us too, way longer than the four months of actual classroom time, but I feel it really helped shape the way I look at poetry. I wrote this one poem where I took some Cree lines from my family, honestly I can't remember much more than that, but Christine really liked it and encouraged me to continue to write in that vein. Up until that point, teachers had only ever shut me down fast anytime I tried to bring up an Indigenous voice. I won a poetry award in the last year of my undergrad and used the $1200 to buy a new duck-hunting shotgun and an aluminum canoe. I remember thinking, this poetry shit isn't that bad if it can get me more birds.
Do you have any other works in progress, or that are forthcoming to be published, which you would like to talk about?
Actually, I just heard today that I'm going to have a non-fiction piece coming out in the Indigenous Writers issue of Grain. That one and this one are the only two pieces that I've submitted anywhere. Part of me wants to stop right now and call it with a 100% acceptance rate and add that into my Instagram bio next to the 20/20 vision and cavity free since '88 line. Really though, I only submitted because my professors in the MFA program at UBC told me that it will help with scholarship applications. I don't know how much interest I have in continuing to do so.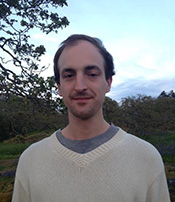 James Kendrick
* * * * * * * *