Tentative Magic: Rajni Mala Khelawan in Conversation with Angélique Lalonde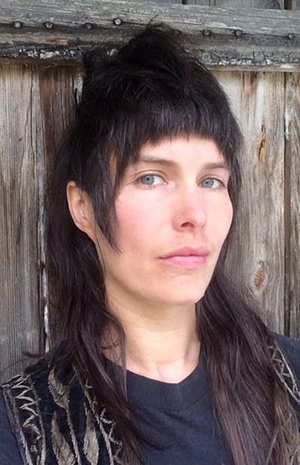 Angélique Lalonde, whose essay "Crazy Glue" appears in The Malahat Review's winter 2019 Issue #209, discusses Krazy Glue, the complexity of families, and approaching stories with compassion and curiosity in her Q&A with Malahat Review volunteer Rajni Mala Khelawan.
Angélique Lalonde's mother is Métis and her father is Québecois. She lives on Gitxsan Territory. Angélique holds a PhD in Anthropology and is the recipient of the 2019 Journey Prize. Her work has been published in Prism international and the Journey Prize Anthology, and is forthcoming in Prairie Fire and Room.

Congratulations on winning the 2019 Journey Prize for your short story "Pooka." That is such an accomplishment. I read "Crazy Glue" and I have to say, this piece will stay with me for many years to come. "Crazy Glue" is a creative nonfiction piece, but, like "Pooka," it uses many of the same storytelling tools. Do you have any overarching techniques that you implement in your work? How did you approach writing "Crazy Glue"?

Thank you, "Pooka" was my first published story, so having it nominated for the Journey Prize was quite a surprise to me, and every step along the way from there seemed a bit unreal. The most unreal part was seeing my face up on the screen when they announced the winner. I was not expecting to have to walk up on the stage — my heart was beating through my skull in that moment. To me the honour is having my work read and valued by jurors Catherine Hernandez, Carleigh Baker, and Joshua Whitehead. All of whom are writers whose work I respect immensely.

Your question about overarching techniques is a difficult one for me to answer. I do not approach writing in a technical way. For me the process is entirely intuitive. I have not had any formal education in writing, so I don't think about it in technical terms, which is not to say that I'm not aware of technique, because I read and think a lot. It's just that I don't know how to name what I'm doing explicitly. Most of the time, I sit down and start writing without having an idea about what I will write about. If it seems to flow I keep following the flow. When the flow stops, I stop writing and walk away. Then I walk around doing other things and questions occur to me about what I am writing, I ponder these things and wait until answers suggest themselves, then when I am fortunate enough to have time to sit again, I go back and encounter the piece again, playing with what I've learned in my time away, and continuing to learn as I write. I find out what I am writing about as I am writing. Often I'm surprised by what comes out.

"Pooka" started as a question for me. I wanted to imagine what a way out might look like for Pooka after so many years of struggling with his own and his family's intergenerational addiction. I wanted to think in an honest way about how Pooka might find healing and fit in a social world that ultimately and in so many ways is not designed as a safe or even possible space for Indigenous families to heal. To think about weaving stories that place us in the world in ways that make sense to us, particularly for those of us who are disconnected from our histories and ancestors, and whose loved ones struggle with addiction and finding meaning. To tell the story in a way that honours the struggle while thinking of a path one might take, knowing that there are other worlds and other possible realities out there. That we can tell stories in the way we want to tell them.

And perhaps the connection between "Crazy Glue" and "Pooka" is simply the questions that I want to make sense of in my world, or at least orient myself toward in ways that are okay. Even when things aren't okay and we still have to live with them, and we still see the beauty and want to align ourselves toward love. So to answer your question in a roundabout way, I approached writing "Crazy Glue" by being unsure about what I was feeling, by being confused about how I think or feel things should be and how they are, and a thread presented itself in my memory, so I followed that thread and it led me to thinking about my story and my sister's story in a way that felt like it could be told. With great compassion and curiosity, and with humour, some anger, some scrutiny and a lot of sadness. The glue is a little bit funny, a little bit odd, a little bit wacky, it allows a really hard thing to be told, standing in for the complexity of what I feel for my sister without reducing it.

Writers have a unique way of looking at the world. Everyday objects that seem ordinary to most people can take on such significance to a writer. In "Crazy Glue," glue signifies the invisible bonds that patch relationships together, or in instances where the glue is not applied correctly or isn't manufactured properly, it loses its effectiveness, and the relationships fall apart. Can you speak about the particular scene, memory, or instance that inspired you to view glue in such a complex way?

Hmmh. That question makes me take a deep breath and pause. To be honest, no. There isn't a particular scene, memory, or instance, that's why the story flits back and forth between different moments of thinking about glue and the different relationships that play out — mother/daughter, sister/sister, daughter-in-law/father-in-law/partner, grocery shopper/Anastasia. As I think about this it brings me toward one of your questions about how being trained in anthropology has influenced my writing. Anthropologists spend a lot of time thinking about things and how they stand in for the relationships people have with one another. Nothing is insignificant as everything exists in social and cultural worlds. So there are meanings attached to everything we encounter in a life, and sometimes the meanings are hidden. Anthropologists like to think that they are experts at discovering the hidden meanings in objects — though the people who use and make these objects may not agree with the meanings the anthropologists draw from them. Maybe the way to put it is that anthropologists are trained to tell stories about things as stand-ins for human relationships, so it could be glue, or something else. Glue just took me on a ride this time, weaving itself in and out of different moments I've existed in the world with different people.

More specifically for this story, Krazy Glue does act on me like a time warp, no matter what, every time my children break a toy, I think of my mother, and how she fixed our toys, how she seemed to be able to fix things that seemed irreparably broken. Like magic. And how now, as a mother, I know how tentative that magic is. I'm never sure whether the glue I use will fix things, whereas she seemed to be sure somehow. Before I had children I never thought about glue this way. Probably because I had no toys to fix, just my own things, things that no longer had a connection to childhood, in which so many things are possible because we don't yet define reality in the stringent ways adults tend to. I think a lot about how I shape reality as a parent, how my realities were shaped by my parents, how my sisters' realities, raised by the same parents in the same house, were shaped differently. Krazy Glue exists in my adult world with a lot of the magic of childhood attached to it, because it was something my mother valued having around. She did some teaching around it. I always tried to pay attention to what my mother was teaching, even if a lot of the time it didn't make sense to me. Even now, even though she might not think I'm paying attention, I am. I'm still trying to learn. She can still use Krazy Glue so much better than I can.

"Crazy Glue" is a story that will resonate with a great number of people. It is a great skill to be able to bond with your readers in such a way. Do you have any advice for emerging writers on how to achieve this in their own writing? 

I have no idea how to achieve this. It is not something I set out to achieve. I write the way I do because it helps me think about things in ways I find interesting — it brings me joy and laughter, and it surprises me. I'm not thinking about readers when I write. I feel like the stories I write want to be written and I play with them to write them. Perhaps the resonance exists because we all feel and don't know how to feel at the same time. So playfulness is important. Playing with the things that hurt, turning them around with words, giving them a different shape so we can see the places where we can exist with love and dignity. Families are so complex. There are all these ancestors still in us in all the ways our caregivers feel and taught us to feel, all these ghosts that shape how we navigate the world. I'm just hanging around trying to have a say in things so it can be a little bit funny or beautiful instead of sad or scary all the time. It's very important to me that I be so very careful while I am playing with stories that are not just mine to tell that the beings I write about emerge in their fullness as thinking, feeling beings, whether they are fictional characters or people that can be identified as actually existing in the world.

I understand that you have a PhD in Anthropology. Has having a degree in anthropology influenced your creative writing?

Oh! Hah. Well, getting a PhD is the second hardest thing I have done other than being a mother. It is a process that rearranges your mind and habits. Introduces you to the thinking of hundreds or thousands of other thinkers who have thought about the things you are thinking about through the existence of your discipline and sometimes beyond that in other knowledge systems, if you are concerned with other knowledge systems. When I was doing my PhD I would often write an academic essay and alongside that I would write a companion creative piece, so that I could feel through what I was thinking, so that the knowledge could sing in me instead of just being like the clacketty voices of disembodied people out there wanting me to tell things in a very particular way in a very particular place for a very particular audience. Yes, it absolutely influenced my writing. Anthropology taught me that there are so many human ways of telling stories and so many possibilities for imagining and enacting ourselves in the world. The sheer immensity of what we can think and make and do and how we might love and feel and sense our worlds differently. It's mind-blowing. And so humbling. And for me, the academic world was always so foreign, it made no sense the way it was organized and how people behaved toward one another. I wanted to learn about why the world is the way it is, and I did that there, and once I learned that I decided that I could take that knowledge back to the world and try to know it differently. With my heart too, and my spirit and hands and flesh. Pop it open a little bit with tricky words so I could tell it differently.

Which authors do you like to read? What about their work appeals to you? What projects are you currently working on completing?

It's hard to answer this question in a concise way. I read a lot, and my reading varies. Right now I am primarily reading Indigenous authors, sometimes I read a lot of fantasy, sometimes theory, and every day I read children's books multiple times over to my kids. The children's books I love right now are Katherena Vermette's The Girl and the Wolf, illustrated by Julie Flett. I love any book illustrated by Julie Flett. I also really love the Chirri and Chirra series of children's books written and illustrated by Kaya Doi. I want to bike around in Kaya Doi's worlds with my children.

I've already mentioned Joshua Whitehead and Carleigh Baker. Joshua weaves story magically, it's entrancing. Carleigh Baker's dry dark humour feels like taking a walk through her character's lives and seeing them be who they are without apology. It's funny and pointed, playing with contradictions without attempting to resolve them. Leanne Betasamosake Simpson's work has been so influential — her stories and thinking are songs to me. They tell the world in such an important way, they make so much visible. Alicia Elliott's A Mind Spread Out on the Ground broke me open in so many ways, and knit things together so deftly. I am in awe of her mastery with weaving thought and story. Arielle Twist's poetry feels sparse and raw to me, and so achingly real in its embodiments of pain and hope. Billy-Ray Belcourt weaves theory, story, self, body, NDN, together in such innovative ways in his writing. I learn and feel as I read him, which is no small thing.

In addition to the trans, Indigiqueer, and Two-Spirit writers I have already mentioned, there are others whose work I have read or am looking forward to reading, but I can't mention them all here. I am still haunted by Catherine Hernandez's Scarborough a few years after reading it — haunted in the sense that it emerges for me in different moments of moving through the world. I think about the characters in that book and their lives, as though they are people I know, as though their stories are still going on, though the book is long over. I love her style of writing. I am currently working through Kai Cheng Thom's I Hope We Choose Love: A Trans Girl's Notes from the End of the World. It is so intelligent and beautiful — touching with such tenderness to look at hurts and violences that are hidden in plain sight, holding them out to us with love so that we might open our hearts to feel and know one another differently. For anyone working in social justice, especially with young people, this book should be a place to start.

Ursula Le Guin has been with me throughout my life. I read her to my children, I dream her stories when I sleep. My favourite fantasy writer right now is N.K. Jemisin. She is an unparalleled world maker. I will reread her Broken Earth Trilogy many times over.

I also want to mention a few story collections I've read recently. Samantha Hunt's The Dark Dark blew my socks off. I loved following where she took me as a reader. I just finished Dina Del Bucchia's Don't Tell Me What to Do. I have not laughed so much while reading in a very long time. She surprised me all over the place, with the most hilarious twists and turns, all written with compassion and great respect for the characters she threw into the most obscure of places. Mad props to her writing. I also just finished Téa Mutonji's Shut Up You're Pretty. She has such a strong voice, and she writes about desire, sex, and women's bodies in a way that feels truthful, smart, and liberating. I wish I had read a book like this when I was a young woman. The confusion and damage of being pretty for girls. I've never read anyone write about this in the way she does. I look forward to the work she puts into the world.
I'll stop there, there are some I'm missing for sure, but these are the ones that are hanging around my house right now in the various places I put them to sneak words in rare quiet moments.

As for my own work, I am working on a collection of stories. I envision it as being a mix of fiction, like "Pooka," and creative non-fiction pieces, like "Crazy Glue," because that is the form my storytelling is taking these days. The collection is starting to take shape in a way that makes sense to me. I have been writing for a long time without thinking about publishing because I was busy doing other things, so I have a lot of stories, poetry, and essays that were not ever necessarily intended to go together, or to do anything other than be written in my process of being in the world. Going through some of my more recent pieces while continuing to write new ones and thinking about how this work fits together is an important process for me, I'm still learning my way through it. I work part-time as a community organizer, grow a lot of the food we eat, make art, harvest medicines, and have two children under five, so for me the real work is creating time in which I can play with the stories that unfold themselves to me. I do have five publications forthcoming in the next several months, so while waiting for the book, readers can look for my work in The Malahat Review, PRISM International, Prairie Fire, Room, and Mom Egg Review in the coming year.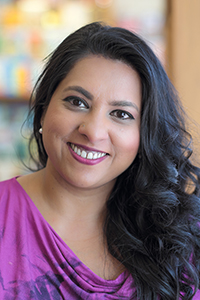 Rajni Mala Khelawan
* * * * * * * *