A DeLorean in a Cloud of Smoke:
Heike Lettrari in Conversation with Laura Legge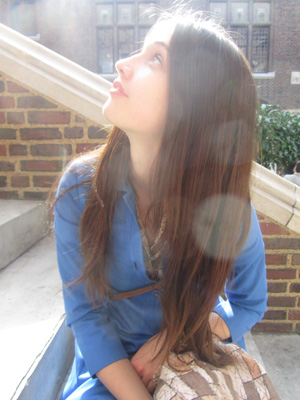 Malahat volunteer Heike Lettrari talks with Laura Legge about life as a nominee for the 2013 Writers' Trust / McClelland & Stewart Journey Prize with her story, "It's Raining in Paris," which appeared in issue #181, Winter 2012.
Thanks for agreeing to be interviewed again! It's with excitement that I ask: How do you feel regarding your recent Journey Prize nomination, and what difference has this made for your writing life?
You remember that scene in Back to the Future where Doc slowly reveals the DeLorean to Marty McFly, who stands with his mouth open while the beautiful car rolls back through the cloud of smoke? A bit like that. It's awesome to have something like this to tell my family, who are very nurturing.
Established writers like Yann Martel and Yasuko Thanh have made public statements about the value of the Journey Prize for them in the early stages of their writing careers. How do you see this prize being important for an emerging writer like yourself?
It's an honour to be recognized with the nomination. For me, my focus has been, and will continue to be, on process. That's the only thing that I have any influence over, and it's the reason I love writing.
Have you been keeping up on the slow rolling out of contenders' names on Facebook? Any thoughts on taking these updates to this social media form?
I actually don't have Facebook! Not because I'm a great, disciplined person, but just because when I waste my time on the Internet I do it by Google image searching Robert Mitchum and checking my fantasy football team. I think it's very cool that they're trying out new ways of bringing attention to individual writers, though.
Let's revisit your story. "It's Raining in Paris" is a beautifully written piece! It's full of rich and active language. Can you tell us a bit about your relationship to language, how you play or work with it, and how you consider diction and syntax?
Thanks! I love language. Every story is an arrangement of sentences. So I just try to make sure that each sentence is well constructed, for utility and aesthetics, and that together these sentences pull the narrative forward. I don't force it when it comes to choosing which words to use. I'll put a long dash if I can't come up with the right word or phrase, and often on a later reread it will become clear to me what's missing.
And that brings me to ask: Fiction? Poetry? Categories—how do you think of them? It seems that your poetic eye was trained on all of the lines of your prose in your winning piece.
It won't surprise you that I see room for interpretation within and between those categories. Obviously the most satisfying short fiction has elements that are not requisite to poetry, and vice versa. But some of my favourite writing finds a liminal space––like Autobiography of Red, or Ossuaries, or Jesus' Son.
How do you think about pace and its relation to structure? I couldn't help but feel a relentless movement and momentum (like that of driving rain, which was well suited to your story) produced by the chip-chop, non-linear, fragmented structure.
I think when I'm writing and reading stories, I am most bothered when the music of it doesn't feel right. If the metronome is off, the story is off. I believe that a well-chosen pace will work regardless of the structure (although obviously it's preferable for the two to be compatible), but even a strong structure can't work without the right pace.
Can we talk about titles? I was surprised at the rather straightforward, no-nonsense title of "It's Raining in Paris" and the very push-tangle-and-punch of the prose that followed.
Definitely. I felt like the story was, as you said, told in a somewhat oblique and fragmentary way, so having a direct title seemed like a nice foil. I might make a grilled cheese with Comté and poblano pepper, but I'm still gonna want a little ketchup with it.
The Malahat's Marketing & Circulation Manager, Patrick Grace, interviewed you on this same story back in February 2013. How has your writing changed since then? What are you working on now?
I spent five weeks at The Banff Centre this summer and that was a game changer. The faculty were fantastic. I'm rewriting some early drafts of short stories now, cutting out a lot of euphuism and ambiguity I was trying to get away with before. It's very satisfying.
Any "great reads" recommendations you have, or new loves in prose?
Always! I just finished the killer Joy Williams collection Taking Care, which was gritty and funny and very elegant. A new love of mine in prose is Everything Begins and Ends at the Kentucky Club by Benjamin Alire Sáenz. That collection is so impressive.
Thanks, and congratulations again! Here's to crossing our fingers for you!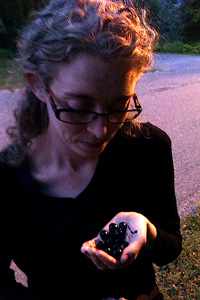 Heike Lettrari
* * * * * * * *
Read "It's Raining in Paris" in full on our website.