Sense of Self / Sense of Place: James Kendrick in Conversation with Dawn Lo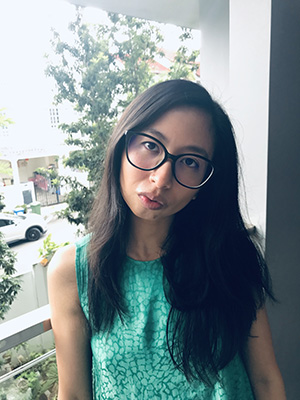 Dawn Lo, whose creative nonficiton piece "Life Cycles" appears in The Malahat Review's winter 2019 Issue #209, discusses clarity through distance, giving voice to her experiences, and how place factors into her sense of identity in her Q&A with Malahat Review volunteer James Kendrick. Read an excerpt from "Life Cycles."
Dawn Lo is a Hong Kong-Canadian writer currently based in Singapore. She holds an MA in Creative Writing from Lasalle College of the Arts. Her work has appeared or is forthcoming in Chantwood Magazine, the Merrimack Review, Queen Mob's Teahouse, and Cha: An Asian Literary Journal.

In your piece "Life Cycles" there is a motif of deep connection between one's sense of self and the place of their birth. Given this, and the theme of returning home versus living as an expatriate, could you talk a little bit about your life in Singapore, why you moved there from Canada, and how that is connected to your writing?
I moved abroad, as most people do, because of work, either their own or their partner's. "Expat" is such a dirty word to me. A lot of expats like to make Asia their playground, without acknowledging their privilege or trying to immerse in local culture in a meaningful way. Immigrants are expected to assimilate. Expats are not.
But the fact of the matter is I, by definition, have been an expat for a long time. I grew up a Third Culture Kid in Beijing, but being Chinese in ethnicity and heritage meant that I didn't have the stereotypical experience, at least intellectually. It was a strange and humbling experience looking like a local and living, in the broad strokes, the local culture but knowing you were better off financially. I think this is why my writing is obsessively about identity and belonging.
Also, living abroad those early formative years, I feel much more comfortable living away from home. Being in Singapore has been strangely fortuitous this past year, because I am far away enough from the political movements in China and Hong Kong to not be directly affected, but close enough that I can still feel the reverberations. The distance, from China, from Canada, from my family, has given the mental space to see certain things more clearly.
Given how important place is in "Life Cycles," could you talk a bit about why the Don River features so prominently in the piece?
I came to the motif of water because this current movement in Hong Kong is called the Water Revolution. There have been pro-democracy protests before, most notably the Umbrella Movement in 2014, but I didn't pay much attention to it while living in Canada at the time. In this piece, I wanted to weave in my Torontonian side through my focus on the Don River. My family's home is north of Toronto and to travel between the places, you'd take the Don Valley Parkway (DVP) which, given its name, runs along the Don River. I've been on the DVP many times in my life, shuttling between my parents' and downtown where I lived, but I'd never given the river much thought – its ecosystem or history – until the salmon run incident. It's disturbing how little we care about something until it becomes personal.
As someone who has spent a significant amount of their time living in Canada, but currently lives outside the country, to what extent do you consider yourself a Canadian writer? How important to your sense of identity as a writer is place?
I don't think any immigrant is ever unaware of how place factors into their sense of identity. It's a constant negotiation between earning your right to citizenship without giving up your heritage. As any immigrant can relate, I feel more Canadian when I'm, say, with my Hong Kong friends but I can't possibly hold a candle to those who grew up in Canada. On top of that, my immigrant story also isn't the most commonplace, because I grew up overseas. I envy writers who don't need to justify their ownership of place. It has taken me a while to get comfortable with the idea that my stories, my views, my voice as a Hong Kong-Canadian who grew up in mainland China can matter to readers in any of these places and, with any luck, around the world.
Is there any way in which "Life Cycles" departs from, or emphasizes/reiterates ideas or themes from work you've published previously?
Many of my fiction pieces deal with the idea of belonging, whether to a person, a community, or a place. As humans, all we want is to be allowed and appreciated for who we are. We strive for that kinetic moment of mutual understanding. "Life Cycles" is the most intimate and honest piece I've written to date.

Do you have any upcoming pieces that you're working on, or that are awaiting publication, that you'd like to talk about?
I'm working on a novel set in Beijing, which alternates between the turn of the millennium and now. It's been incredibly sad to see this beautiful place of my childhood being turned for political reasons into something I don't recognize. But who is to say what is "bad"? I remember fondly how winters used to smell of burning coal. There was a dystopian hue of yellow that the sky became during a sandstorm. That colour brings me joy, but no one is going to call it a "good" thing. And, as a Canadian, am I allowed the right or authority to speak about this? Ultimately, what I'd love is the opportunity to give voice to what it's like to be my kind of Chinese and Canadian.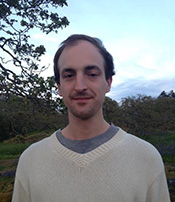 James Kendrick
* * * * * * * *