Meditation on Skies: Safiya Hopfe in Conversation with Billeh Nickerson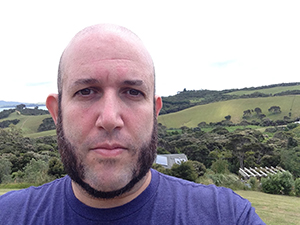 Billeh Nickerson, whose poem "Skies" appears in the Malahat Review's Winter 2018 Queer Perspectives Issue, discusses lyric essays, non-linear writing, and LGBTQ+ writers in his Q&A with Malahat Review Marketing & Promotions Assistant Safiya Hopfe.
Billeh Nickerson is a Vancouver-based author, editor and educator whose most recent collection, Artificial Cherry, was nominated for a City of Vancouver Book Award. He's permanent faculty in the Creative Writing department at Kwantlen Polytechnic University.

Your piece "Skies" tells the story of a father and son, and the child's experience growing up, through expansive and abstract images of heights, flight, and the sky. Were you thinking in the context of this theme when you first started writing, or did it materialize later?
I started writing this piece about twenty years ago. It morphed into something much different during that time, but the one consistent image was me looking up at the sky checking for my father's plane. Let's just say I've lived a lot of life and read a lot of books during those twenty years. This piece is most definitely inspired by Anne Carson and John D'Agata—wonderful practitioners of the lyric essay form. The images stem from my meditation on the various skies I—and my father—have experienced. The piece is only a response to an interview Eileen Myles gave on the topic of skies.
Your career centres on poetry, and "Skies" is very poetic in tone and form, but the content reads a lot like a lyric essay. Would you consider "Skies" a hybrid of poetry and creative nonfiction?
I'm much more known as a poet, but I do have a book of nonfiction and occasionally still publish prose pieces. I view the world as a poet though. I guess I'd call "Skies" a lyric essay. It's part meditation, memoir, and confessional.  
"Skies" embraces a series of images and specific events with raw authenticity and detail, telling the story of the father and son in snapshots. How do you think non-linear writing impacts readers versus linear writing?
I've never thought of it as non-linear, but I guess it is. Hmmmm. The form for this piece is adapted somewhat to fit the Malahat's page size. In my original, all the entries are high up on the page to mimic the sky. I chose the snapshot form as it felt fragmented in the same way memory can be. I didn't want to spoon-feed readers the meaning. I'm not 100% sure of my relationship to all the imagery and scenes, so it's felt disingenuous to manipulate folks into an absolute or even a single meaning.
Assuming "Skies" is creative nonfiction, is writing about yourself and your experiences something that ideally occurs once you've reached a place of distance from the subject matter? Or do you prefer to write when you are still very connected to a story, perhaps using writing itself to process events?
I find my best work happens when I've had time to consider and let the imagery stew, but I'm also someone able to write pieces based on current events. I believe in going where the heat is and not questioning the Muse when she presents opportunities. I do find I oscillate between the works stemming from personal experience and works more historically-based or simply stuff where I make shit up. It can get exhausting—and boring even—only writing about myself.

The voices of LGBTQ+ writers are vital to a well-rounded Canadian literary landscape — what obstacles or lingering stigmas do you think currently exist for queer writers in Canada? Can you recommend some other queer writers whose work you've enjoyed?
Mainstream audiences seem to love LGBTQ+ works when it involves victimhood and/or struggle, but not when the focus is on queer desire and, in particular when that queer desire is not white. I still encounter folks flinching at movie theatres whenever there's a gay kiss on screen. Well, perhaps, not all lesbian kisses, but that would require a whole other interview to discuss. LOL. It just strikes me as odd when and when not queerness and queer desire are palatable AKA tolerated.   
In terms of recommended writers, there are so many folks out there doing significant work, but I'll keep my list close to home. I love when writers are not trying to please anyone and unafraid to ask the difficult questions. Amber Dawn, Leah Horlick, Billy-Ray Belcourt and Michael V. Smith have all written celebrated works that do this. Also, I would read anything by Ivan Coyote, even a grocery list! I'm excited to read David Ly's first full-length book Mythical Man upcoming with Anstruther Books (Spring 2020).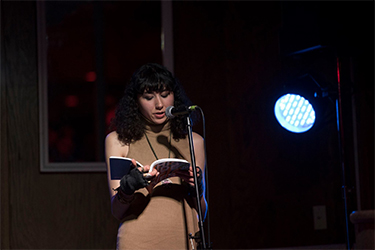 Safiya Hopfe
* * * * * * * *