The Power of Mothers: Kathy Mak in Conversation with Ellise Ramos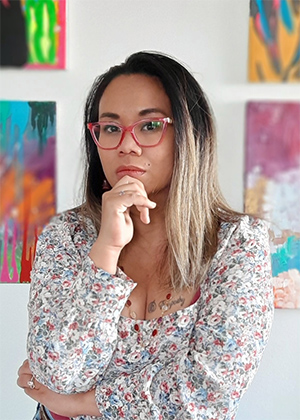 Ellise Ramos, whose nonfiction piece "I Can Still Taste Her Milk" appears in The Malahat Review's spring issue #218, talks with Malahat Review past contributor Kathy Mak about found family, writing about trauma, and how mothers are our first gods.
Read an excerpt of "I Can Still Taste Her Milk" here.
Ellise Ramos is a Toronto-based writer who lives with a cat, is drowning in books, is a caffeine addict and inhales science fiction. Living with Bipolar Disorder I, PTSD and ADHD, she is an advocate for mental health awareness and documents her struggles on her blog. She has been published in various literary magazines and has a self-published book of poetry, Ruptures, available for purchase on her site, elliseramos.com. Ellise was also one of the 13 writers featured in Art of Time's "Who is We: Voices Across the Divide," where she performed her poetry on stage for the first time.

When the pandemic happened, Ellise decided to get married, have a son and change her legal name to Harmony van der Schyff. When she's not obsessing over a new hobby, she is facilitating writing workshops for the Writer's Collective of Canada, googling everything, and going on Wikipedia binges.

"I Can Still Taste Her Milk" is a raw, powerful, yet vulnerable story on trauma and sexual abuse as a young child. Trauma, as you described, "leaves trails of burn memories and images, with nothing but spidery wisps of dying smoke to remind you of its existence." Writing, in a way, brings these "spidery wisps" into substance. What was the process like when writing this piece? Was it written during different stages of your life or in one sitting? Why did you decide to write this story?
I actually wrote this in one sitting, while my husband and I were staying at his mother's house in Kingston. We had spent the night on her couch, watching a bad reality show after she got home from work, and I was amazed at how casual everything was, how the whole interaction felt nonchalant and so easy. There was no underlying tension, no double entendre, it was just an easy night watching trash TV. And they were spending time together because they wanted to, not because they had to. And I wondered why I never had a moment like that with my own mother.

So I went to the guest room and I wrote it all in one go, and then I didn't revisit it again until many months later. I suppose you can say that I wanted to bury it. I get moments of inspiration like that, like this uncontrollable urge to write something down that doesn't get satiated until it's out on paper. I didn't decide on it, nor did I ever consciously want to revisit the memories, let alone try to fashion it in a linear manner so that there's a narrative. It was more regurgitation of vivid, reoccurring memories for me, and an exploration of whether these images would make sense to somebody else, to someone outside of me.
There's the proverb "blood is thicker than water" that places a strong emphasis on familial bonds. Yet besides representing shame, blood in your story weaves into the fraught relationship between you and your mother, and the tendency to leave things unsaid. What made you choose to capitalize the word "mother"?
For most of my childhood, and I think this applies to most children as well, I viewed my mother as the omniscient one, almost god-like in status. The capitalization was meant to place her above everyone else: the all-seeing, all-knowing one, especially from the point of view of a child. Additionally, the Philippines is an extremely religious country, so the idea of "god" is present everywhere, it's unavoidable. It's very ingrained in our culture.

And so there's a very strict tradition of honouring your elders because of this religious background, unquestionably so, much like the faith required of you if you believe in god. I wanted to emphasize that in my recounting of her. Of course, now I see her as human, but there's still that mingling thought—that urge that my psychiatrist tells me is natural—we will always want the approval of our mothers. Even if it's illogical. And I think that's very powerful, how embedded that is within us. Mothers truly have a lot of power. They are our first gods.

And yes, it's very interesting that you brought up that proverb. I've never been a proponent of it. I really believe that you choose your own family, and that familial bonds are not automatic, but earned. When we turn to this excuse of placing "family" above all others, no matter the cost, we put the vulnerable into situations ripe for abuse.
When writing creative nonfiction, one thing I struggle with is the ending. Sometimes endings aren't explicitly clear cut, and instead, can lead into an opening or a new beginning. I didn't expect to see the recurrence of the quicksand moment at the end but it felt right. Did you struggle with the ending? Why did you decide to end with "In quicksand, anak. When you tell this story to others, you can say I saved you from quicksand"?
This memory of sinking and almost drowning in farm manure is constantly in my mind, in an almost comical way. It was a very frantic event—the stench, the screaming, and the laughter. All of my senses were bombarded at once except for my sight—I couldn't see, I remember it being pitch dark. It was so nonsensical. It was like a vivid dream of the senses but in complete and total darkness. So when I felt comforted, when [my aunt] hugged me, it was the first moment when I started to regain my bearings—her arms around me, it felt safe, it felt like I was going to be led from then on and I wasn't alone in the darkness. This conversation we had together is always in my mind. It is my best memory of her.

I did struggle with the ending, as we all do when trying to summarize our lives. Do I go on and talk about the consequences of this trauma well into my adulthood? Do I keep going until I recount how I got better? But I thought it should really end with her death. The story was always meant to be a celebration of what she did for me, being the real mother I found comfort in. I think that the trauma and violence take away from that genuine love we shared for each other, in the sense that it tends to be what, I imagine, the reader would focus on naturally because it is quite disturbing, but it was important to bring that piece in to show how interwoven the two are, the violence and our love for each other, and how the meaning we attribute to our experiences and memories can exist in a greyscale—we can find love in trauma, we can find and create our own mothers in other people, and we can find resilience in situations that are supposed to make us powerless.
I'm always curious how creators become connected to writing. Writing is a journey of continual dedication and perseverance, but it certainly isn't easy. Why do you write? And what are you working on and/or reading at the moment?
Why do I write? When I was a child, I was naturally drawn to books because it was my own world. In the piece, I talk about how I fantasized in my garden. I did that with books as well. I was always drawn to escape. Eventually of course, that translated into writing my own stories. I've told people that I write because there is nothing else. It is my entire life—it is this uncontrollable pursuit that might lie dormant for a while, but will always come back. It is not so much a desire, but a necessity for me.

Right now, I just finished re-publishing a book of poetry entitled Ruptures. I added a few more poems to it and added the poem I'm performing for Art of Time's "Who is We: Voices Across the Divides" on May 12, 13, and 14 in Toronto, along with 12 other writers. It's supposed to be an authentic reading of our experiences as artists, as ones who live on the fringes of society, as voices not conventionally represented. It is a very exciting venture for me but also terrifying of course.

And for what I'm reading: The Indifferent Stars Above: The Harrowing Saga of a Donner Party Bride. It recounts the true story of a group of American pioneers who migrated to California in a wagon train from the Midwest in the 1800s. It's a really gut-wrenching story, and it's painful to read, but that's what makes the story so compelling for me.
Besides writing, you're also involved in the world of vintage jewellery and fashion. On your website, you mention you travel to different sites to hunt for vintage pieces and you also have an online shop, www.auctionhuntersdesigns.ca, to showcase your pieces for sale. How did you become involved in this community? Do your creative pursuits inspire one another?
Oh my goodness, this is my next obsession! That's the thing about me, I suppose, I tend to go from one obsession to the next. I recently got into it because I gave birth to my son and needed something to fill the time. I've always been interested in jewellery, but once I started getting into its production and history is when the obsession really started. I'm fascinated by history because it's a form of storytelling, especially the archetypes of history that we pick up along the way, that encapsulates the story behind the culture of that decade. I think jewellery is a great representation of that because it's chock full of meaning—we wear it on special occasions, at weddings, at milestones, and the jewellery we purchase also reflects the style and trend of that time. For example, the 1950s were all about sparkling jewellery that was composed of cheaper materials because we were recovering from WWII—so rhinestones and costume jewellery started becoming a thing. The 1980s was the first decade where we, as a society, started really glamorizing the rich, so gold and chunky became a thing. I think I'm a sucker for a good story, so any excuse for that is an avenue that I can helplessly get lost in it. Maybe next year I'll be on to something else!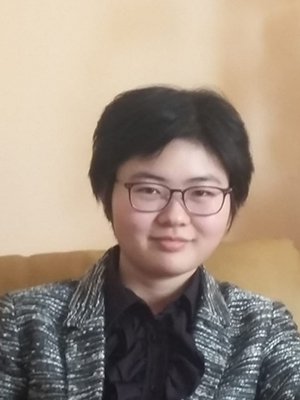 Kathy Mak
* * * * * * * *