Liminal Spaces: Sarah Brennan-Newell in Conversation with Jade Riordan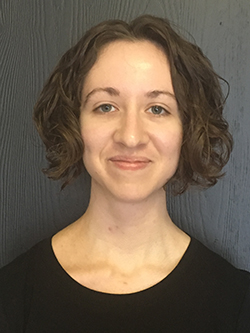 Jade Riordan, whose poem "The Buoy Line" appears in the Malahat's Summer 2018 issue, discusses Morse code, liminal spaces, and current inspirations in her Q&A with Malahat volunteer Sarah Brennan-Newell.
Jade Riordan is from the Northwest Territories and is currently an undergraduate student at the University of Ottawa. Her poetry has appeared in The Claremont Review, Contemporary Verse 2, The Dalhousie Review, NōD, Room, and elsewhere. She is a selection committee member (poetry reader) with Bywords.
I really enjoyed "The Buoy Line"! One of the things that first struck me about the poem was the use of Morse code to divide the stanzas. Translated it reads "Still Guided By My Past Selves." Could you speak more to your decision to incorporate Morse code into the text, and what you see as the interplay between the body and the translated code?
The body of the poem is inspired by the translation of the code, "Still Guided By My Past Selves," and a collection of short horror thriller stories, Slasher Girls & Monster Boys (selected by April Genevieve Tucholke). As I associate something going wrong at sea with the ubiquitous SOS, I decided to translate the line "Still Guided By My Past Selves" into Morse code to add to the atmosphere and as a way to incorporate the line into the finished poem.
Something I noticed in both "The Buoy Line" and another one of your poems, "Tellings From a Linear Landscape" (which begins "we live in the horizon now") is their mutual interest in liminal space. Are the borders meant to be transgressed or respected? To what extent do you see them as our own choices versus natural occurrences?

When you refer to horizons, I see the Morse code as something communicating just beyond the horizon; there is life and hope beyond, but you must be able to capture, decipher, and understand the language being translated. There is also the notion that there is more to any world than just our horizons, and how we interact with other horizons is life itself. Yes, I am fascinated by and like to be in liminal space whether it is riding a bus or catching a plane. However, I am more interested in the in-betweens than the boundaries defining them.
Building on that do you think living in Northern Canada has influenced a sense of space in your poetry and if so in what ways?

I've grown up in the Northwest Territories and this has shaped my sense of space and how I interpret and interact with the world. There is so much space and so few people in the North and this often expresses itself in my poetry.
I found there to be an ominous tone to the last lines of the poem, as the buoy line begins to encroach the space. However this was juxtaposed against a sense that the space within the buoy line has become too insular – a place where people are surviving but can no longer grow. That sense is captured too by the imagery of the buoy lines that float "just a tad bit higher each year/ as if they were trying to escape/ the line cutting through their centres." Could you speak more on the unsettling quality produced in the poem and whether or not you feel that is a regular feature of your poetry?

The unsettling quality of this poem was intentional and I'm glad it came across! I wanted to evoke a delicious tickle of (safe) fear. I wouldn't say that this is a regular feature of my poetry, more that it makes an appearance in my writing every once in a while.
On a broader note who or what inspires you? Are you reading anything especially good at the moment?

Anything and everything inspires me – a snippet of conversation, a stray thought, a piece of art, a line in a book. On that note, I'm currently reading The Melancholy of Mechagirl by Catherynne M. Valente and the Summer 2018 Issue from Contemporary Verse 2; both are gorgeous and definitely worth a read!
* * * * * * * *