Translating the Nature of Childhood: Megan Welsh in Conversation
with Neil Smith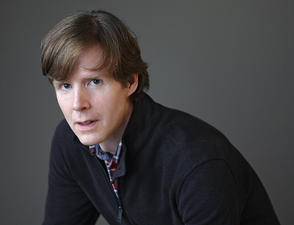 Malahat volunteer Megan Welsh talks with Neil Smith about his translation of the first chapter of Quebec writer Bruno Hébert's novel, C'est pas moi, je le jure (It's Not Me, I Swear), stylistics, and the untranslatable. Smith's piece appears in At Home in Translation: Issue 188, Autumn 2014 of the Malahat.
Photo credit: Michael Lionstar.
First, can we talk a bit about why you chose to translate this excerpt from Bruno Hébert's novel, It's Not Me, I Swear? We can say, of course, that all writing is about word choice, but I think there are special, extra elements of assessment and choice for writing in translation. (Would you agree?) I think this piece, though, can stand alone as a short story in itself. With your background in short fiction, is that something that came to mind when making your selection?
I chose C'est pas moi, je le jure because I absolutely love the novel, which perfectly captures the surreal nature of childhood. I was surprised it had never been translated. The book was a big success in Quebec and made into an excellent film by Oscar-nominee Philippe Falardeau. Sadly, many gifted Québécois novelists are never translated into English.
I also thought I could do the piece justice. It's written in a fairly direct and not overly poetic style (similar to my own prose in fact). At the time I translated the piece, I was also working on my novel, Boo, which is about a thirteen-year-old atheist who finds himself in a surreal heaven (hence, a similar sensibility).
Though Léon is a child in the piece, it's written in the past tense, so I see Léon as older now, perhaps a young man reflecting on his childhood and trying to make sense of it. He describes a boy who's eager to embrace religion and believe in miracles, but who's disappointed when so-called saints turn out to be less than saintly. Léon is having his own Quiet Revolution in Chapter 1, and as the novel progresses, his revolution becomes noisier and noisier.
I picked the first chapter because, as you say, it can stand alone as a short story. Many of the other chapters in the book also work as stories, but you need to have read the preceding chapters to truly understand Léon.
You're very experienced in translation, I know, having studied and done substantial work in the field. For those of us also interested, but rather less experienced, what does your writing process look like when you're working in translation? Do you confer with the original author?
I'm now translating Geneviève Pettersen's La déesse des mouches à feu (The Goddess of Fireflies), a novel set in Chicoutimi in 1996 and narrated by a fifteen-year-old girl. Before translating each chapter, I highlight any vocabulary I need to look up or passages I need to research. The narrator uses plenty of slang unique to the Saguenay region (flots instead of jeunes; froque instead of manteau) and a lot of Québécois swearwords and joual. She also refers frequently to punk rock from the nineties, books (the junkie memoir Christiane F in particular), and horror movies. I recently had to watch clips of the film The Evil Dead on YouTube to understand a reference that Geneviève makes to a girl getting raped in a forest by a demon tree.
I plan to involve Geneviève soon because I've finished about a hundred pages, which is about half the book. I want her input for some of the choices I'll make. I'll also consult anglophone writers who were teenage girls in 1996. I want to know the slang they used. Did they use words like "frigging," "dweeb," "twit," and "skank"? Were hooded sweatshirts called "hoodies" then? What was the worst thing a girl could call another girl ("slut," "whore")? Did they call condoms "rubbers"? I'm also reading novels from the period (like Girl by Blake Nelson).
What do you think makes a successful translation? Conversely, what do you think hinders such work? In a past interview with the Daily Xtra, you commented that you "see it as more adapting than translating." Would you talk a bit about this idea?
For me, a successful translation flows as smoothly as good English prose. Readers aren't tripped up by awkward syntax or unidiomatic phrases. Recently, I wanted to read The Dinner, the Dutch bestseller by Herman Koch. I opted to read the French translation because the English translation sounds too artificial in places, like a Dutchman pretending to be English.
To answer your question about adapting, I'll give an example. I just translated the program for a Montreal film festival. The film summaries in French were often wordy, overly poetic, and a little vague. I ended up watching the film trailers, reading the film reviews, and then adapting the summaries. I added some details and omitted others. In the end, the English summaries sound more down-to-earth and direct. The goal, after all, is to entice anglophone movie-goers to see these films.
Sadly, not everyone grasps the importance of a good translation. One French filmmaker used Google to translate his film description and then posted it on his website. You can imagine the gobbledygook.
Still thinking about translation, in this piece you've left Trenet's lyrics untranslated. Can you talk about why you chose to leave these lines in the original? To do so certainly calls attention to them, particularly (I thought it spoke to the time and place, particularly the young Léon, whose story we follow). Is it something about lyrics in general or those words, specifically? Where else might you mix translated and untranslated?
By keeping the lyrics in French, I underline the fact that these characters live in another language. This novel is about the sixties in Quebec and the changes that a child and a society undergo, so I want some French flavour. I also use "Mama" and "Papa" to refer to the parents and keep the French honorifics Madame, Monsieur, Abbé, and Père.
In contrast, in my translation of La déesse des mouches à feu, I haven't used a single French word yet. The novel is about a teenager's experiences with sex and drugs and her first steps toward adulthood. The themes are more universal, and so I don't find I need to emphasize the Frenchness of the setting.
Sometimes, French-to-English literary translators opt to leave certain things untranslated to add a French touch. Examples include street names (Rue Saint-Denis, instead of St. Denis Street), events (the Festival du nouveau cinéma, instead of the New Cinema Festival), and schools (Université Laval, instead of Laval University).
With regard to these specific lyrics, I could have used an American equivalent to Charles Trenet (Frank Sinatra perhaps), but if I quoted too much of the song, I'd have needed to seek legal permission. Also, the song title
Y'a d'la joie
contrasts nicely with poor Léon's troubles. After all, this kid isn't always joyful.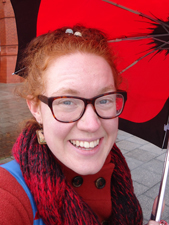 Megan Welsh
* * * * * * * *