From the Perspective of the Body: Michelle Poirier Brown in Conversation with Laura Vukson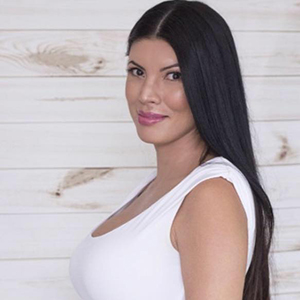 Laura Vukson, whose memoir "Birthed Twice" appears in The Malahat Review's winter issue #217, talks with Malahat Review past contributor Michelle Poirier Brown about how it can feel to write about the Indigenous body, questioning the belief systems ingrained by colonialism and patriarchy, and how creative elements cradle the hard truth in her writing.
Read an excerpt of "Birthed Twice" here.
Laura Vukson is a Tlicho Dene First Nation member, a mother, and an advocate for Indigenous youth. As Executive Director of ArtsCan Circle, Laura engages with young Indigenous people in remote northern communities, where she nurtures collaborations between them and working artists.

Laura holds a degree in International Development from York University. In 2016, along with 22 other Indigenous women from around the world, she partook in the Foro International de Mugeres Indigenas scholarship program at the United Nations and Columbia University in NYC.

Laura's been published in The Globe and Mail, had an essay shortlisted for Prism International's NFC and longlisted for The Fiddlehead's NFC. Residing in Parry Sound, Ontario, she's co-creator of Sweetwater Writers Workshop, a place she likes to refer to as a home for wayward writers. Laura's currently working on her first novel as well as a collection of essays.

Both "Birthed Twice" and your First Person opinion piece in The Globe and Mail address the experience of an Indigenous woman in a colonial world from the perspective of the body, the very ground of our self-sovereignty. I especially love the line in "Birthed Twice," "I am earth after the flood." It can feel treacherous to write about the female body, or the Indigenous body. Where do you turn for courage when tackling these subjects?
I wrote the Globe and Mail piece at a waterfront restaurant close to my home. My six-month-old son was cooing from his car seat as I rocked him with my foot, and I was trying not to feel guilty that my one-year-old was in daycare. A group of mothers with their tots mingled at a playdate on the other side of the room. I felt isolated and depressed. And I had this beautiful boy smiling away. My greatest desire is for my sons to walk into a room and feel whole. For them to be able to do that, I needed to get there, too. It hit me hard that I needed to connect the dots on why I felt this way. And for me, this meant pursuing writing.

I asked author Merilyn Simonds if she would consider being my writing mentor. She shared that she, too, years ago, had the urge to write when she had small children. She also told me that I had five books worth of ideas in the first essay I sent to her, and she wasn't shy about telling me that I needed to learn writing mechanics. We rolled up our sleeves and went to work. Merilyn taught me that I owed it to writing to be brutally honest. Get it all on paper, then decide what to share. I'll never forget that.

My partner Joseph and I run Sweetwater Writers Workshop, and I've participated in a couple of our courses where I've workshopped some of my writing. I'm learning so much from Joseph, who asks me to read aloud and teaches me to slow down and obsess over every little detail. The learning curve of discussing our work with the other wayward writers in the classes is amazing, as well. The care, empathy and courage that goes into reading and discussing each other's work has been life-changing.

With both pieces you mentioned, I felt liberated after I finished them. Something inside of me healed.
"Birthed Twice" traces a mother-daughter bond that shifts through the common experience of birthing, and reflects the etched experience each woman carries of colonialism and patriarchy. Has the publication of "Birthed Twice," another creative birthing, also influenced your relationship with your mom?
Since the birth of my children, my relationship with my mom has flourished—nothing like giving birth to understand the enormity of a mother's love. Motherhood also makes me question my actions and reactions. What are the deep belief systems ingrained in me by colonialism and patriarchy that still have their grip on me? When do we stop the intergenerational trauma and reclaim what was stolen? The beauty of writing is that the creative elements cradle the hard truth. You can go somewhere painful, then come up for air and focus on the mechanics and editing. I like this part—plotting and moving pieces around after writing a draft. "Birthed Twice" is a tribute to my mother. Ironically, I was afraid to share this piece with her. My sister ended up reading it to her over the phone. After their call, my sister called me, bursting with excitement, sharing that our mom gasped and laughed and cried. My mom is a residential school survivor. I've only seen her cry once. I had to ask my sister three times if she was sure that mom cried. This time, her tears were a good sign.
I know the Joan Didion quote, "I write entirely to find out what I'm thinking, what I'm looking at, what I see and what it means. What I want and what I fear." is meaningful for you. What interior discoveries are you exploring in your current writing?
I write to make sense of the world around me. I used to look at women in my life that I greatly admire and wonder how the hell did they get there? The confidence. The self-respect. The strength. I'm fascinated by all those little gumption moments that bring you one step closer to finding your voice as a woman, a mother and an Indigenous person. And hopefully, tell a good story.
What are you reading right now, and what is in your "books to read" pile?
No joke, I'm listening to the audiobook of The Year of Magical Thinking by Joan Didion right now. I'm blown away by how she "shows" her painful story while weaving in fascinating facts such as what happens during an autopsy. Last year, the top nonfiction titles I read were Seven Fallen Feathers: Racism, Death, and the Hard Truth by Tanya Talaga, Becoming by Michelle Obama and Notes on Grief by Chimamanda Ngozi Adichie. I also got obsessed about learning more about the Holocaust, so I read The Tattooist of Auschwitz by Heather Morris and The Painted Bird by Jerzy Kosinski, which led me to Night by Elie Wiesel and several other Holocaust survivors' works, including one powerful essay by Tadeusz Borowski.

I've got no official 2022 list. I enjoy searching for my next book on Kindle or Audible as I hide from my toddlers in the bathroom.
In 2016 you participated, along with 22 other Indigenous women from around the world, in the Foro International de Mugeres Indigenas scholarship program at the United Nations and Columbia University in NYC. This kind of experience can be foundational. In what way does this international learning, and your further volunteer experience in Africa and Asia, influence you and your writing? Despite COVID, have you been able to sustain international connections?
My international travel and volunteer experience was an eye-opener. I was extremely privileged to participate in a volunteer journey to work in Liberian refugee camps in Ghana. While there, I realized the sheer magnitude of the real and continued destruction of war on humanity. My experience often felt overwhelming. My concern is that many programs were not sustainable because they had a top-down Western approach. It made me conscious that there are many sides to a story, which led me to enroll in International Development at York University. After finishing, I was connected with 22 Indigenous women around the globe. Facebook is a great tool to stay abreast of each other's work. There is a woman I met who is a researcher. She records the children's graves who never returned home from the Indian schools in the United States. Her work is heartbreaking and so important. A true warrior. Another woman from Nigeria, she and I dream and plot about creating a documentary series about Indigenous women around the globe—when our children are a bit older.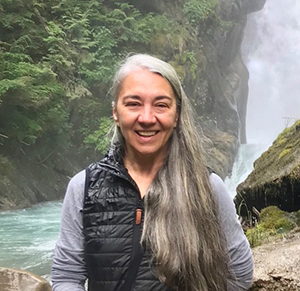 Michelle Poirier Brown
* * * * * * * *