Jack Hodgins Founders' Award for Fiction
2013 Winner
The University of Victoria, on behalf of The Malahat Review, is pleased to announce that this year's recipient of the Jack Hodgins Founders' Award for Fiction is Kris Bertin of Halifax, Nova Scotia, for his short story "Your #1 Killer & Extra Hands," which appeared in The Malahat Review's Fall 2012 issue (180). Bertin's story was chosen for this prestigious award by Linda Svendsen.
Established in honour of the celebrated Victoria novelist's contribution to Canadian letters and to the University of Victoria, the Jack Hodgins Founders' Award for Fiction recognizes the excellence of The Malahat Review's contributors by awarding a prize of $1000 to the author of the best short story or novella to have appeared in the magazine during the previous calendar year. The winner, selected by an outside judge, is announced prior to the publication of The Malahat Review's Spring issue.
Of Bertin's story, Svendsen says, "'Your #1 Killer & Extra Hands' is a story you read with your heart in your brain, nerves in a knot, gut clenched. Written in first person, present tense, and narrated by a codependent mother unsure of how to deal with her adult son and his mysterious, notorious coping behaviours, the tremendous climactic reversal could shower her with grace or possibly foreshadow inevitable tragedy. In the company of such esteemed Malahat writers as Lisa Moore, Greg Hollingshead, and Bill Gaston, Kris Bertin's story stands out in voice, characterization, and fierce depth, and richly deserves the Jack Hodgins Founders Award. It is absolutely haunting."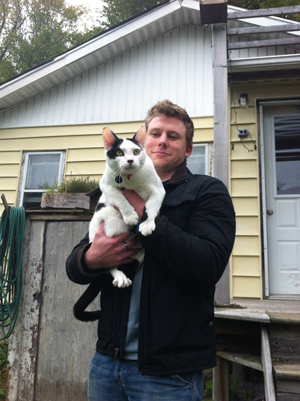 Kris Bertin is a Halifax-based writer with work published in The Malahat Review, The New Quarterly, PRISM International, PILOT, Joyland, Riddle Fence, The Antigonish Review, ELQ, and others. This year Kris was a finalist for both the Journey Prize and the Vanderbilt-Exile Prize. Born into a military family, he lived in B.C. and Ontario as a child, then did the rest of his growing up in rural New Brunswick. He attended Saint Mary's University in Halifax, studying English Literature and Creative Writing, but left before graduating. He is currently working on some longer pieces, and peddling a collection of short stories. Kris Bertin is still a bartender at Bearly's House of Blues and Ribs.
Linda Svendsen's linked collection, Marine Life, was published in Canada, the United States, and Germany and her work has appeared in the Atlantic, Saturday Night, O. Henry Prize Stories, Best Canadian Stories, and The Norton Anthology of Short Fiction. Marine Life was nominated for the LA Times First Book Award and released as a feature film. Svendsen's TV writing credits include adaptations of The Diviners, At the End of the Day: The Sue Rodriguez Story, and she co-produced and co-wrote the miniseries Human Cargo, which garnered seven Gemini Awards and a George Foster Peabody Award. She received the John Simon Guggenheim Fellowship in 2006. Svendsen is a professor in the Creative Writing Program at the University of British Columbia.
Jack Hodgins was born in Comox on Vancouver Island in 1938, and raised in the logging community of Merville. After graduating from the University of British Columbia, he moved to Nanaimo, where he taught high school English until 1979. He has been a writer-in-residence at Simon Fraser University and the University of Ottawa, and taught fiction in the Department of Writing, University of Victoria, from 1983 to 2004. His first collection of stories, Spit Delaney's Island (1976) established him as a presence in Canadian writing, bringing his distinctive perspective on Vancouver Island to readers in book after book. His third, The Resurrection of Joseph Bourne (1979), won the Governor General's Award for Fiction in 1980. His other books include The Honorary Patron (1987), Innocent Cities (1990), A Passion for Narrative: A Guide for Writing Fiction (1993), The Macken Charm (1995), Broken Ground (1998), and Damage Done By the Storm (2004). He is a recipient of the Eaton's BC Book Award, the Gibson's First Novel Award, the Commonwealth Literature Prize, the Canada-Australia Prize, the Terasen Lifetime Achievement Award, and the Lieutenant Governor's Award for Literary Excellence.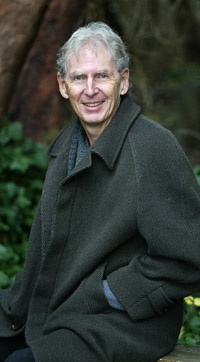 photo by Darren Stone/
Victoria Times-Colonist
For more information about the Jack Hodgins Founders' Award for Fiction and how you may support it through a donation, please email The Malahat Review.
Read an interview with Kris Bertin.
Previous Jack Hodgins Founders' Award Winners
2012
2011
2010
2009
2008
2007