A Long Poem Symposium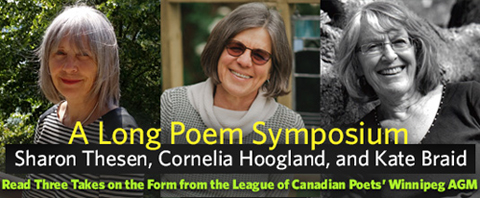 During the afternoon of May 30, 2015, as part of its annual general meeting in Winnipeg, the League of Canadian Poets hosted "Writing, Editing, and Publishing the Long Poem," a panel discussion on a genre that The Malahat Review has nurtured through the Long Poem Prize since 1988.
According to the conference program, "Long poems—often in the form of series, sequences, or thematically connected poems—are a Canadian tradition, notably commemorated with collections such as Michael Ondaatje's and Sharon Thesen's long poem anthologies (1979, 1991, 2001). At least two recently shortlisted poetry books for the Governor General's Awards consisted of long poems, and the CBC and various literary publications are known for Long Poem contests. Join Kate Braid, Sharon Thesen and Cornelia Hoogland for a discussion on issues involved in writing, editing and publishing the long poem. What compositional and editorial questions, issues, approaches, difficulties and opportunities have these poets encountered?"
To coincide with the publication of The Malahat Review's Summer 2015 issue, which showcases the two Long Poem Prize-winning poems by Gary Geddes and Genevieve Lehr, B.C. poets Kate Braid, Cornelia Hoogland, and Sharon Thesen have generously made the papers they delivered at the League conference available on our website. Their remarks, which are an important addition to the critical literature, shed light on their experience at writing, and their attraction to and understanding of the challenges and history of the long poem in Canada and elsewhere.
Read Kate Braid's "Tending the Garden: The Fruits and Dangers of the Long Poem"
Read Cornelia Hoogland's "The Long Poem and the Shape of the Working Mind"
Read Sharon Thesen's "After-Thoughts on the Long Poem"