Fiction Review by Lauren Diemer

Raminder Sidhu, Tears of Mehndi (Halfmoon Bay: Caitlin, 2012). Paperbound, 256 pp., $24.95.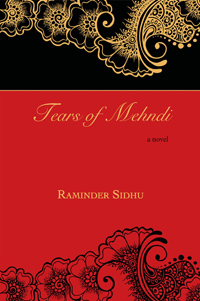 Raminder Sidhu's courageous debut novel inspires readers to become invested in its characters; they could be real people living right next door. By keeping us engaged with each character, family, and community connection, she then takes us into the story a little deeper. She focuses on the story's women, each with her own particular challenges and triumphs. Having grown up in British Columbia herself, Sidhu experienced first-hand what it was like to live between Canadian and Punjabi cultures, their differences and surprising similarities.
Tears of Mehndi is set in Vancouver's Little India. Following a traumatic experience endured by one woman whose livelihood, achieved through a local variety store, is threatened by racial intolerance and vandalism, her community bands together to clean up the mess. Throughout the novel, we become more acquainted with this diverse group of Indo-Canadians as the decades of their lives pass. Early on we meet Baksho, whose position in the community is tolerated, at best. Her son is fatherless and she does her best to imprint the ways of her Punjabi culture by endeavouring to find him a wife. He is more interested in Canadian ways, and ends up abandoning his mother and his new wife to a life of shame within the Punjabi community. Baksho has no choice but to carry on with her head held high. Preet, married off to a man with no interest in her, is held hostage by a culture's ancient ways, and by a mother-in-law who does not see how her own actions, which involve strange rituals and a scam that shocks and confounds, are bizarre.
As time passes, we learn of Balbir, whose husband makes their daughter "disappear" because she has shamed her family. Despite her husband's attempts at disarming Balbir's credibility by periodically admitting her to the psychiatric hospital, Balbir knows her husband killed their only child, but no one will listen to her. Eventually, after two years of searching, the authorities arrest Balbir's husband for the crime but her murdered daughter is lost to her and she is bound to the psychiatric hospital for life.
Sidhu draws the reader's focus to the societal flaws that specifically victimize women. She vividly demonstrates how the traditions and contradictions of two very different countries—India and Canada—can pull women in all directions of the compass.
Although they are strong women at their core, they are constantly broken and beaten down by life. As one male character is said to observe, "That woman has already brought so much shame and embarrassment to her family by leaving her husband. Maybe she wasn't an obedient wife and that's why he brought another woman home." Through Sidhu's words, we can feel their desire to live their lives as persons, not just as women less important than men. Fighting centuries of oppressive tradition is often too much to face alone, and we find some women giving in to the old ways, the ways of their mothers, because surrender is a matter of survival. Tears of Mehndi has been artfully composed as a series of stories, intricately woven together by the women of the community. Each character's story is highlighted by a trait displayed by that character. Thus truth, love, wisdom, courage, hope, strength, and faith drive the novel's characters. Each woman is connected to the next through a circle of gossip, one area where they find common ground. It enables them to celebrate and mourn together, despite their differences. And not all is bleak in Little India; life has a way of allowing the women to blossom despite their hardships. Whether they have been released from their marriage bonds by divorce or death, or have found strength to discover who they are within, some are victorious in the end. The phrase "What doesn't kill you makes you stronger," is easily understood when reading Tears of Mehndi.