Poetry Reviews by Cara-Lyn Morgan

Tina Biello, Playing Into Silence (Halfmoon Bay: Caitlin, 2018). Paperbound, 72 pp., $18.

Rani Rivera, All Violet (Halfmoon Bay: Caitlin, 2017). Paperbound, 88 pp., $18.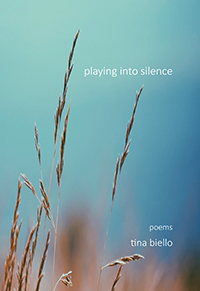 Playing Into Silence is a visual and musical journey into the memories of Pamela, a young woman discovering love in the 1950s. Recalling her first love, a girl from a neighbouring farm, Pamela recounts the sweetness and innocence of youthful romance, which is quickly overshadowed by the oppression of her family and community. She finds herself demonized, ostracized, and isolated. Alone in an institution determined to "re-program" her, she takes solace in music, the only thing she understands more than her own true desires. "Pamela keeps on playing, plays to save herself / from sinking." Biello uses a keen descriptive instinct that weaves the language of musicality, like a score, throughout the collection. The "Indigo notes" of Pamela's saxophone become the soundtrack of this mournful and engaging book.

Biello's collection is a deeply human story, at times tragic, but also charming, laced with a humour easily understood—"Inside the humour you hear the tears." Good-natured charm is braided tightly with memories of childhood trauma, making the work consistently inviting, never disingenuous. It is a story of connection and encounter, of injustice and misunderstanding, expressed through images of love, heartbreak, abandonment, and joy.

The work leaps seamlessly between a variety of forms, the most striking being the prose poems in the opening section, which read as micro-stories, flicking between vocal perspectives and reflecting on a woman's memories of when she was at her most vulnerable, and least understood. Biello has structured this relatively brief collection so that it reads with the richness of a novel or memoir. The economy of language speaks to a poet whose technical abilities are perfectly in sync with her poetic whimsy. No word is wasted here, no line-ending unengaged. "Crabapples, paraffin and hooch / flavour the water now. All the cattle know / and come to drink." Focusing on one woman's experiences as a microcosm for a (slowly) changing world, Biello has fleshed out a life's evolution.

Apart from the narrative strength of the stories within, the collection also showcases Biello's rich descriptions of nature, specifically the urban/rural transitions on the prairie and how easily one can become lost moving from one to the other there. The work becomes wonderfully painterly, moving from the chronology of a life into something far more sensual, visual, and restrained. There is an entire poem about maggots, which somehow manages to be both unnerving and endearing at once, closely in tune with the feeling of the entire book. As Pam moves from adolescence into adulthood, the collection also journeys into its own visual maturity. The tension is drawn up, into a world of secret affairs, doomed romances, heartache, and self-actualization. "Jawbreakers sucked down to the liquorice seed." Raw and stunning, this is a beautiful read.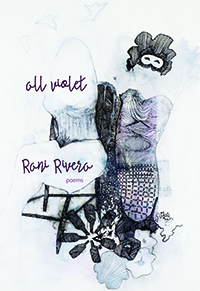 In All Violet, a collection heavy with themes of darkness, sorrow, insecurity, and pain, there lies a lighter touch that offers insight into the warmth of the late poet Rani Rivera's brief and conflicted life. "I guess it's a thin line between paying / someone to stab your face full of poison / and relaxing in a bath drawn from the blood of local virgins."

Released posthumously, this book is a legacy underpinned by a life ended far too soon. It is packed with clean imagery and effective line endings that house nuggets of double meaning and cheek, exploring topics of depression, anxiety, and internal conflict. Rivera describes the mundane nature of addiction and transiency using plain and detached language. Her poems are wrought from the normalcy of chaos—moments of sober clarity, rock-bottom tragedy, loss, and the addictive nature of romance, both good and bad. They resonate honesty, comedy, and despair, braided in vignettes detailing the experiences of a variety of friendships forged both by proximity and addiction.

Between moments of comedic magic, where the poet's dry wit delivers a hard slap, there is a finely honed technical skill and innate understanding of the foundations of lyric poetry. Rivera indulges in haunting language of the best kind: "lazy, exquisite corpse" and "nominal transaction of sadness" and a foreshadowing that, in itself, ghosts throughout. In several different ways, the speaker muses how she is "tempted to leave out everybody / ease myself into a bodybag." "How Not to Become a Homicidal Ex-Lover," the section-length long poem, is a tongue-in-cheek cautionary tale. She quips "Don't switch teams out of vengeance, you'll only end up / breaking another girl's heart." Yet, later, we read that despite this self-reflection, the speaker's heartbreak is inevitable: "we / ruined each other, beautifully."

This is a collection of honest self-exploration that leaves the reader with an understanding of both the speaker and themselves. It illustrates the importance of human connection in a harsh world, the need to hold and be held, to suffer and succeed. All Violet clings to the skin long after the final poem and lingers as a testament to the life of Rani Rivera; a glimpse at who she was, and all that she may have become.