Mike Matthews Award for Studies in Canadian Literature
Mike Matthews (1937 – 2012) was a lifelong supporter of Canadian books and Canadian writers. During his thirty-three-year teaching career at Vancouver Island University (formerly Malaspina College), Mike championed a central role for Canadian literature in the syllabus.  In addition, he wrote dozens of reviews of Canadian books for publications that included the Globe and Mail and The Malahat Review. After retirement, he continued to offer courses on Canadian authors at VIU's Elder College for several years.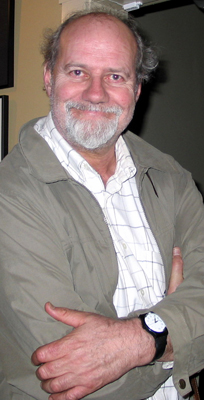 In his memory, the Mike Matthews Award for Studies in Canadian Literature has been established for a Vancouver Island University Arts and Humanities student who has a demonstrated interest in Canadian literature, and who is continuing graduate studies in this field.
Mike Matthews was a vibrant and witty man, treasured by his friends and family for his irreverent exuberance. Born in Aklavik, N.W.T., Mike grew up in Vancouver and obtained his undergraduate degree from UBC. After completing graduate studies at Montreal's Sir George Williams University, Mike began his teaching career in the English Department at Malaspina College in Nanaimo, B.C. He also taught classes in theatre and took part in many theatrical productions. The Malahat Review is proud to have published a total of twenty-one reviews by Mike; the first appearing in the Spring issue of 1987 (#79) and his last, shortly before his death, in the Winter of 2011 (#177). His contributions were consistently intelligent, insightful, generous, and well-written. With his passing, Canadian literature has lost a uniquely talented and dedicated friend.
Tax-deductible donations to support the Mike Matthews Award can be made to the Vancouver Island University Foundation via CandaHelps, an online donation system, or via the donation page on the VIU website.
Both sites allow you to indicate that your donation is for the Mike Matthews Award.

As well, a donation form [pdf file] can be downloaded and mailed to:
Vancouver Island University
Attn: Susie Caswell
900 – 5th Street
Nanaimo, BC
V9S 5S5
Cheques should be made payable to The Vancouver Island University Foundation
(Re: Mike Matthews Award).
Read Mike's guidelines for writing a successful poem in his own "Ten Lessons for Poetry."
Read John Barton's letter of thanks to Mike Matthews.