Iain Higgins, Editor
Member of Poetry, Fiction, and Creative Nonfiction Boards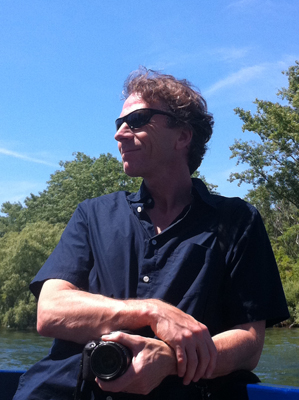 Iain Higgins is a writer, translator, critic, and teacher. His books include Then Again (poems), The Invention of Poetry (a translation of Polish poet Adam Czerniawski's selected poems), The Book of John Mandeville (a translation of a fictional medieval travel book about the East), and Writing East: The "Travels"' of Sir John Mandeville (an academic study). His poems have appeared in Best Canadian Poetry in English 2008 and Rocksalt: An Anthology of Contemporary BC Poetry, and his creative nonfiction has appeared in Maisonneuve. He is currently finishing a new book of poems and working on a novel. He teaches in the English department and in the Medieval Studies Program at UVic.
Like John Milton,he believes in reading promiscuously, hanging out with books old and new. Over the years these have included such pleasurable encounters as Austen's Persuasion, Bunting's Briggflatts, Ford's The Good Soldier, King's Green Grass Running Water, Le Guin's Always Coming Home, Milosz's From the Rising of the Sun, Stan Persky's The Short Version, Sappho's lyrics, Shakespeare's Antony and Cleopatra, Rosemarie Waldrop's The Reproduction of Profiles, Woolf's Between the Acts, and most things by Octavio Paz and Annie Dillard.
Describe your ideal short story
My ideal work of short fiction? Is there an ideal anything? As a reader I'm Aristotelian rather than Platonic: I'm more taken by the multitudinous creatures that people the world's literary ecosystems than by something hidden in the mind of god. The stories I love, like everything I love or admire, I love for their being what they happen to be in their own idiosyncratic way, for their thisness, for whatever makes them distinctive even when they share family resemblances with other stories (poems, people, things). Above all it's the play between expectation and surprise, between familiarity and mystery, that catches my fancy and my attention: I know you, I don't know you, I want to know you better. I agree wholeheartedly with Hopkins, who in "Pied Beauty" sang the praises of "All things counter, original, spare, strange: / Whatever is fickle, freckled . . . / With swift, slow; sweet, sour; adazzle, dim." I suppose what draws me into any story I admire is the way in which it conjures up a compelling, moving, spellbinding world, a world you cannot resist, not even when you feel uncomfortable in it. Paradoxically, the shortest short stories can do this just as well as the longest — like some of the miniscule fictions of Lydia Davis or the slightly longer small stories of The Malahat's own John Gould in Kilter. Sometimes it's a matter of style, but not always, since a compelling world can survive clumsy or awkward writing, as in Poe or David Foster Wallace (in Wallace's case the awkwardness is deliberate, of course). Sometimes a fine story doesn't need much of a narrative either, like the parabolic "Borges and I." Yet whatever the attractions of compression and concision — the "Possibility" that Dickinson praised as "a fairer House than Prose" — sprawl has its irresistible appeal too. I really like it when a short story flings off its coat, kicks off its shoes and socks, and takes over its own little space with the insouciant reach of long fiction.
What is your favourite (for the moment or all-time) short story?
With stories, as with food, who can have only one favourite? Burgers for BBQs, sushi with sake, and so on. Kakfa's "The Metamorphosis" is a story I have loved since I first read its electrifying open sentence — which is even better in German (it's a sentence worth learning the language for). I'm also a fan of Mavis Gallant's work, especially the stories (like "Potter") that are as embedded in their own historical moment as if they were novels by Tolstoy, but I also enjoy the utterly different short fiction of Bruno Schulz, Michel Tournier, and Emily Carr — Schulz and Tournier for the impish yet spooky way they remake the traditional tale, Carr for prose as tart and sharp as a Cox's Orange Pippin.
From the time you started on our fiction board, what has been your favourite pick?
My favourite story since I started here? I joined the fiction board just two years ago and have seen some fine stories come its way during my short time on it. Greg Hollingshead's "Melnyk" and Lisa Moore's "Guard of What" are two that stand out for me, and not because I read them fairly recently. Instead, it's because as fiction they go in opposite directions and suggest how varied, insightful, and challenging a short story can be. Each one lures you into a world that takes over your consciousness while you're there. "There is no story that is not true," says a character in Achebe's Things Fall Apart, and these are two tales that prove that claim.
Finally, what are you not seeing in submissions as of late that you would like to see?
What would I like to see? It's not for me to tell storytellers what to do or how to do it. It's their job to make stories, and if they do it well I'm happy to stow away in their worlds. Still, even given that a lot of good work comes in to the fiction board, I would like to see even more variety and more risk-taking. It's not necessarily a matter of pushing at the boundaries; it might be redrawing them or playing with them. Stories can do anything, so they should.