John Threlfall
Member of Advisory Board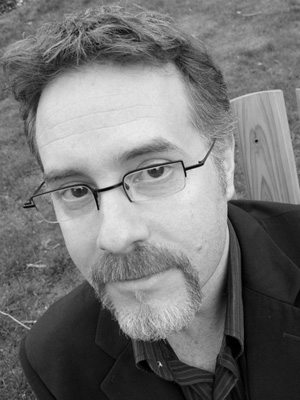 As a specialist in media and popular culture, John Threlfall has lectured on such diverse topics as the history of the disc jockey and the representation of witchcraft in popular culture, and has been an instructor with both the University of Victoria's Dept of Writing and the Victoria School of Writing—all of which dovetails quite nicely with his academic background as an historian and the 12 years he spent working at the Victoria-based alternative weekly newspaper, Monday Magazine (including a four-year stint as Editor-in-Chief).

In addition, John has been a freelance magazine writer for more than 20 years, spent five as an "in-house walking encyclopedia of popular culture" for CBC Radio One's Definitely Not The Opera, was one of six Canadian Gen-Xers featured in the NFB documentary Le Temps X, has been nominated for an Alternative Association of Newsweeklies Award, co-authored the quirky guidebook Victoria: Secrets of the City for Arsenal Pulp Press (2000), and tends to pop up in the media when least expected. Nowadays, he is the Communications and Special Projects Officer for UVic's Faculty of Fine Arts, and moonlights as a theatre critic for the online arts mag, CultureVultureVictoria.com.

His published interviews include the likes of authors Neil Gaiman, Ronald Wright, Thomas King, Richard Wagamese, Lisa Moore, and Shakti Gawain; musicians Bruce Cockburn, Ani DiFranco, Pat Benatar, Billy Bragg, Dave Bidini, and Jann Arden; film directors David Cronenberg, Guillermo del Toro, Paul Gross, Anne Wheeler, and Ron Mann; and such various personalities as Vinyl Café host Stuart McLean, Canadian astronaut Robert Thirsk, comedian Ryan Stiles, Titanic explorer Tom Zaller, classic rock icon Randy Bachman, and veteran west coast rock 'n' roll DJ Red Robinson.

John's current project is writing Artsy Type, the official blog of the Faculty of Fine Arts, but now that he has been liberated from the demands of a weekly deadline, he has more time to spend with his wife and two dangerously charming children. When not reading to his kids, he can usually be found perusing creative nonfiction, graphic novels, books about popular music, and the early 20th-century Saint thrillers of Leslie Charteris. John is a massive consumer and proponent of the public library.