Two Malahat Authors Nominated for National Magazine Awards
The Malahat Review would like to congratulate two of its authors who are finalists for the 38th-annual National Magazine Awards:
Kelly Cooper
Personal Journalism category
for "Ten Easy Steps" (which also won our 2014 Open Season Awards)
in Issue 186, Spring 2014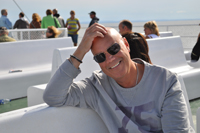 Douglas Burnet Smith
Poetry category
for "Television," "Suppose there's a place we don't know of," and "Postcard"
in Issue 187, Summer 2014
The National Magazine Awards Foundation will announce the winners at a special awards gala in Toronto on June 5.
The 38th annual awards honour the achievements of writers and other magazine professionals for work published in 2014. A complete list of nominees may be found on the NMA website.
Since these awards were established in 1977, The Malahat Review has garnered 81 nominations for excellent poetry, fiction, and creative nonfiction. It has gone on to win fifteen gold and eleven silver awards, more than any other literary magazine in Canada.