K'ari Fisher Nominated for 2015 Writers' Trust of Canada/McClelland & Stewart Journey Prize
This just in: K'ari Fisher has been nominated for the Journey Prize with her Malahat short story, "Mercy Beatrice Wrestles the Noose"! This story was originally published in Issue 186, Spring 2014, and won the Malahat's annual Jack Hodgins' Founders Award for Fiction, honouring the best piece published in the previous year. See the Founders Award announcement page.
Each week, a new longlisted author will be announced on The Journey Prize facebook page. The collection of selected Journey Prize nominees' stories will be published in the 27th annual anthology, available October 8.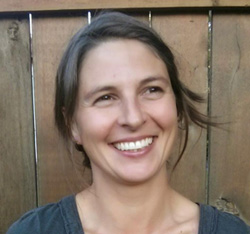 K'ari Fisher was born in Burns Lake, British Columbia, and now lives in Victoria. She has worked as a Zodiac driver for a killer whale research group off the Pacific coast, and for forestry in the Skeena and Bulkley valleys. She is currently completing her final year of an M.F.A. in Creative Writing at the University of Victoria, where she is at work on a novel. Her short fiction has appeared in The Malahat Review and Prairie Fire.