The Water and the Land:
Susan Sanford Blades in Conversation
with K'ari Fisher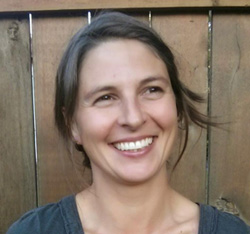 Former Malahat publicity manager and UVic Writing graduate student Susan Sanford Blades recently spoke with K'ari Fisher on her short story, "Mercy Beatrice Wrestles the Noose," which won the Malahat's 2015 Jack Hodgins Founders' Award for Fiction. This story was originally published in Issue 186, Spring 2014.
First, can you take us through how this story came together for you? I'm thinking specifically of the characters, the setting, and the premise (wrestling)—which are all so unique and full of life. Did they all congele at once, or did you start out with, say, Ghost-Mom, and everything came together as you wrote?
This story went through a series of incarnations before it became this one. First, it was based on some of the characters from an old novel that I started and never finished. The setting, Bodie, was also in that novel, as was the junkyard, the train, and the reservoir. The idea to write about a girl wrestler is one I've had for awhile. Nothing was planned in advance. Everything was pieced together and then smoothed into a story. The practice of culling down a novel meant I could focus on the parts that I really liked.
I like that very much. It plays into the idea that a short story can be all we need to know a character's story; I's a whittling down of a novel's worth of life into the most important moments. Can you tell us a bit more about the novel?
The novel was pretty terrible and my first attempt at such a thing. It involved storm chasers and the farmer's almanac. There were roosters, people eating strange foods, and a love triangle. The FBI was involved. There's a solid reason why I never finished it.
Your characters are all so rich, with their own unique voices and traits (the wrist band snaps, the 22-inch neck, the twine suspenders, Ghost-Mom's everlasting cigarette). Do you sit down and develop all of them before you begin writing, do they come together as you write, or do you add in details in the revision process?
I like to collect character traits and then when it's time to create a character, I have a list of ideas at the ready. I stare a lot at people. It's mildly embarrassing for those I hang out with, but I like to think that I've perfected the art of the "cloaked stare." Or at least I stop just before they figure out why they are feeling uncomfortable. Ghost-Mom reminds me a lot of my grandmother.
I know that you've written other wrestling-based stories. Where does your interest in wrestling come from, and do you think there will be more wrestling fiction in your future?
There will be more wrestling fiction in my future for sure. I love pro-wrestling. When I was a kid my sisters and I used to watch the WWF on Sunday afternoons. We'd pretend there was a ring in the living room and practice on each other. I was pretty good at the figure-four leg lock. We sort of felt like it was "in our blood" because our cousin, "Rowdy" Roddy Piper, was in the WWF. We'd watch Piper's Pit and cheer him on. We were big into fist-pumping back then, I'm sure it would have been quite interesting to watch.
You mention quite a few wrestling moves (flying mare, Beell's waist hold, double leg takedown) which I assume are real, and the section where Mercy and Pauley are wrestling is so vivid, I can picture the entire scene playing out perfectly. How did you research the wrestling elements for this story?
I've read a number of books about wrestling. Years ago, I did an interview with an indie wrestler from Victoria for a creative nonfiction class. I think he told me about the flying mare and the moonsault and how his father was a preacher and he used to sit during sermons and dream about doing one off the rafters.
Did you base the setting of Bodie, B.C. on a real place or did it come from imagination? I'm thinking particularly of the section in which Mercy describes Sandy Mountain: "the chunks of shoreline break off and sink slowly into the water where it melts into a sugary cloud."
When I was a kid, my parents used to send us off to Ootsa Lake Bible Camp every summer. We weren't religious, but I think the camp was comparatively inexpensive. The Ootsa Lake reservoir was formed when the Kenney Dam was created to service Alcan's aluminum smelter in Kitimat back in the 50's. They flooded around 92 hectares to create electricity for the smelter. I remember canoeing out onto the lake and seeing the tops of trees under the water—there was an entire forest under there. The shoreline wasn't sandy, but the flooding did a lot of environmental damage and at the time it seemed to me like the water was at odds with the land and the land was losing because it was weaker.
I was very intrigued by the ending (specifically, Ghost-Mom twirling down Mercy Beatrice's throat). Did you know that was where you were going right from the start? And, if it's not unfair to ask, what do you imagine is in store for Mercy Beatrice post-story?
The twirling down the throat of Ghost-Mom came as a surprise to me too. But the moment I thought of it, I knew it had to be the ending. I think that even though Ghost-Mom is standoffish and accusatory in the story, her motivation to "enter" her daughter is a clear one. She's there because she cares and she would do anything to save her daughter even if it means giving up her eternal cigarette. I'm pretty sure Mercy Beatrice isn't going to wrestle for long; she's a smart kid, she just hasn't figured out how to make good choices.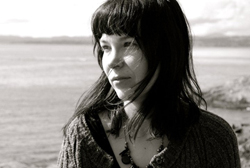 Susan Sanford Blades
* * * * * * * *