Between Short Story & Novel: Samantha Fitzpatrick in Conversation with Naben Ruthnum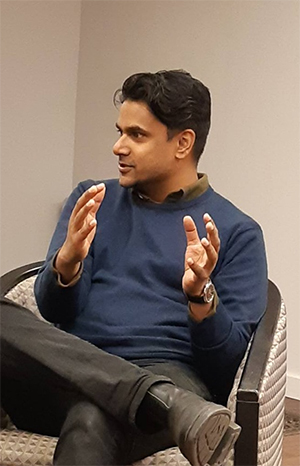 Malahat Review volunteer Samantha Fitzpatricktalks with Novella Prize judge—and 2012's Novella Prize winner— Naben Ruthnum about doing the work, unpredictable characters, and how contests don't dictate your worth as a writer.
Naben Ruthnum is a Toronto-based novelist, critic, and screenwriter. His 2017 book Curry: Eating, Reading, and Race parallels the evolution of the incredibly varied dish the subcontinent is perhaps best known for with the narrow ways in which South Asian identity in the West is often received. Ruthnum's fiction has been published in magazines ranging from Ellery Queen's Mystery Magazine to Granta, and he is a winner of Canada's Journey Prize for short fiction. His two thrillers, Find You In The Dark and Your Life Is Mine are published in North America by Atria / Simon and Schuster in 2018 and 2019 19. Naben was in the writing room of Cardinal season 4, and he and his frequent screenwriting partner Kris Bertin currently have projects in development at Oddfellows Entertainment.
Having won the Novella Prize yourself in 2012, not to mention the Journey Prize and the Peterson Prize, you're no stranger to writing contests. Is there any advice you would give to someone who is considering submitting for the first time?
The novella contest at The Malahat Review is a bit of a unique one, in that it provides a chance to work on a piece of fiction that's at that often not-quite-publishable length between short story and novel. I think that's one of the nice things about it: you can silence the practical part of your mind that insists that working on a novella makes little sense. It makes little sense to write anything at all if you think about it long enough, so it's always best to just try to think about the ideas and characters and do the work.
I'd also suggest not taking winning too seriously, which I'm afraid I did not do myself when I submitted to The Malahat Review's contest back in 2012. I was attaching too much value to wanting, needing to win and getting that story published. Contests do not dictate your worth as a writer or the viability of your career.
As a judge for this year's Novella Prize, what are you looking for in a winning entry?
Strangeness, surprise, insight. Ambiguity. Evidence of care and thought in each sentence.
It is sometimes difficult to find a home for a novella, either with a book publisher or literary magazine. This difficulty may deter writers from experimenting with the form. What do you think are the benefits of the novella and do you have any favourite novellas?
I think that some stories simply fit this length better than any other. Melville's Benito Cereno and Henry James's The Aspern Papers are two favourite novellas. On the newer side, Mary Gaitskill's recent "This Is Pleasure" has stayed with me. Junichiro Tanizaki has a few great novellas, including "A Cat, a Man, and Two Women" and "The Secret History of the Lord of Musashi."
Your crime thriller novels Find You In The Dark (2018) and Your Life Is Mine (2019) are both praised for their slow-building dark suspense. How do you approach building suspense in your writing?
I find not being quite aware of what will happen next myself helps when I'm writing my first drafts. Another tool is making characters that I and the reader can be interested in, even if they are repelled by them, to make people that feel real enough to be unpredictable.
On the screenwriting front, you and your writing partner Kris Bertin currently have projects in development with Oddfellows Entertainment who, most recently, was one of the production companies that worked on Child's Play (2019) and Riot Girls (2019). Is there anything you can share about these forthcoming projects? What other writing projects are you working on right now?
I'm forced to give you a boring answer to the first part: I can't share much as they are both still in early development stages, although much of our writing work on the films is finished.
I'm currently writing a literary novel. I'm about a hundred pages in and enjoying doing something that is quite different from my thrillers, although I have an idea for a [Nathan] Ripley novel that I'm excited to get back into as soon as I finish this other piece. I'm also working on a feature piece of food writing, and potentially mapping out a nonfiction book that builds on that piece. It would be in the world of my first book, Curry: Eating, Reading, and Race, but would involve more reportage and travel.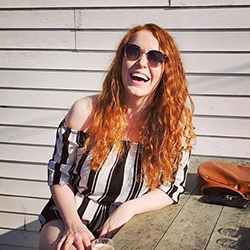 Samantha Fitzpatrick
* * * * * * * *