The Language of Games: Rose Morris
in Conversation with Curtis LeBlanc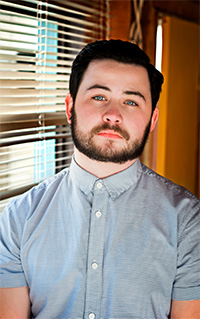 Malahat editorial assistant Rose Morris talks with Spring issue contributor Curtis LeBlanc about play, family, and place in his poems "Milk Separator" and "Cribbage."
Curtis LeBlanc was born and raised in St. Albert, Alberta. In 2016, his poetry won the Readers' Choice Award in the Arc Poem of the Year Contest, and was shortlisted for The Walrus Poetry Prize as well as CV2's Young Buck Poetry Prize. His first chapbook, Good for Nothing, was published by Anstruther Press in 2016.
In addition to being a writer, you work for PRISM international. As someone who works for two literary journals myself, I'm interested to know whether working for a literary journal has affected the way that you write or submit your work?
My stint at PRISM actually just wrapped up at the beginning of May, but it was an amazing experience getting to contribute to a literary publication in that way. My position primarily consisted of handling promotions and running the contests, so I didn't have a big say in choosing content or even reading submissions. In working with the other editors, I think some of my beliefs about how to submit my work (succinct cover letter, clean formatting, reading submission guidelines thoroughly) were confirmed.
In addition to being a poet, you're a sports writer. Is there any crossover for you in the experience of writing poems and sports columns, or are they two entirely separate things? Does your journalistic writing ever inspire your creative writing?
I only have one poem that even mentions hockey, which is completely disproportionate to the amount of my life I spend watching and following the game. I do have a few other hockey poems on the back burner, though. I find that, when I'm writing a hockey column or an article, the language is second to the content. In that sense, I can write a 2,000 word piece in three or four hours, research included. That's just the nature of the publications I've written for. But a twenty line poem can take me months while I wait for that perfect ending to come to me. Sometimes it's faster than that. Poems are strange.
Your poem "Cribbage" uses the theme of play throughout. Is the concept of 'play' important in your work overall?
When my partner and I started seeing each other a few years ago, we spent a lot of time with her family (and still do). They're a huge "games" family, so we took to playing cribbage and crokinole and a bunch of other stuff. As an exercise, I started writing a bit of a series of poems that explored our relationship through the language of some of these games and I'll probably continue adding to it in the future.
"Milk Separator" deals a lot with family and place, mediated through the material object of the milk separator. Can you talk a little about the significance of material objects in your work?
When writing autobiographical poetry, I like to think of details as variables. Each detail and object is something that can be added or removed or altered to fit the poem. The question I always ask myself is: which of these objects or details needs to remain true to reality in order for me to capture the idea or emotion I want to in the poem? In the case of "Milk Separator," everything that you see in that garage is actually in there somewhere back in Edmonton—or at least was at some point in time. If I had to make up the milk separator to write the poem, the poem probably wouldn't exist. Often these objects from my life are the inspiration, the starting point, for poems. Sometimes they find their way in there later.
I'm really excited about Rahlia's Ghost Press, which I just heard you are involved in. Can you tell me a bit about that project and your part in it?
Rahila's Ghost Press was my partner Mallory Tater's idea. We got research grants from the university to go to the Regina-area for our thesis projects. I was researching competitive youth hockey in a small town south of there and Mallory was looking into her Romanian family roots in a place called Dysart to the north. When we were in Dysart, we went to find her Great-Great-Grandmother Rahila's grave in the cemetery where online listings indicate she is, but all we found was her husband Samson's grave. We never found her. The mystery of where she's buried was the inspiration for the name.
As far as roles go, I've taken on the title of Managing Editor. I put together the website and the social media accounts (@rahilasghost) and will probably go on operating things on that end. We have a great team of friends/poets/editors that will be working on titles as we release them. You can meet everyone and get to know a little more about the project at www.rahilasghostpress.com. We're planning some events for the summer and are scheduled to release our first chapbooks in the Fall. We're SUPER excited!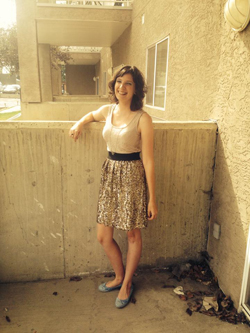 * * * * * * * *