P.K. Page Founders' Award for Poetry
2015 Winner: John Reibetanz
The University of Victoria, on behalf of The Malahat Review, is pleased to announce that this year's recipient of the P. K. Page Founders' Award for Poetry has been given to John Reibetanz for his poem, "Fresco Magic," which appeared in the Malahat's Spring 2014 issue (#186). The poem was chosen for this award by Roo Borson.
The P. K. Page Founders' Award for Poetry recognizes the excellence of The Malahat Review's contributors by awarding a prize of $1000 to the author of the best poem or sequence of poems to have appeared in the magazine during the previous calendar year. The winner, selected by an outside judge who is recognized for his or her accomplishment as a poet, is announced prior to the publication of The Malahat Review's Spring issue.
Of Reibetanz's poem, Borson says: "According to various sources, the term ekphrasis originally meant vivid description. Its meaning, however, has changed over time, so that here and now an ekphrastic poem is one that focusses on a work of (usually visual) art, describing it, and often providing commentary or interpretation. John Reibetanz's two-part 'Fresco Magic' employs an agile thirteen-syllable line with marked caesuras to playfully, wittily, lightheartedly and light-footedly illuminate two series of frescoes and those who worked on them, one set from Pompeii (images of which can be seen online, including 'jug-eared Silenus' with his lyre), one from a Renaissance Italian villa. The poem averts its gaze from ashen Pompeii to revel in 'moment-centred' joy."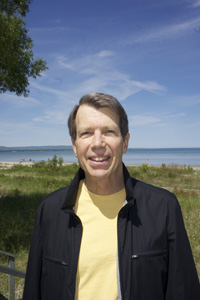 John Reibetanz's eighth collection of poems, Afloat, was published by Brick Books in 2013.  More recent work has appeared in The Antigonish Review, The Fiddlehead, Grain, The Malahat Review, and the Southwest Review, and is forthoming from Arc. A finalist for both the National Magazine Awards and the National Poetry Competition, John has given readings of his poetry in major cities across Canada. He has won prizes in the annual national competitions sponsored by Vallum and by The Fiddlehead, and has won first prize in the international Petra Kenney Competition. He lives in Toronto and teaches English and creative writing at Victoria College. 
Roo Borson's poetry books include Short Journey Upriver Toward Oishida (awarded the Griffin Poetry Prize, the Governor General's Award, and the Pat Lowther Memorial Award), and Rain; road; an open boat, both published under the McClelland and Stewart imprint by Penguin Random House. She has collaborated with Kim Maltman and Andy Patton under the pen name Pain Not Bread, whose book, Introduction to the Introduction to Wang Wei, is available from Brick Books, and with Kim Maltman also writes under the pen name Baziju, whose book of collaborative prose poems, Box Kite, will be published in 2016 by House of Anansi. She lives in Toronto.
The P. K. Page Founders' Award for Poetry honours the celebrated Victoria poet's contribution to Canadian letters. It is made possible by a financial donation to The Malahat Review by P. K. Page in recognition of her long association with the magazine and as a gesture of her deep appreciation of her peers in the local and national literary communities.
P. K. Page (1916-2010) was born in England and came to Canada in 1919. Educated in England, Calgary, and Winnipeg, she studied art in Brazil and New York. She first came to the attention of the readers of Canadian poetry in the 1940s through her association with and regular appearances in Preview, a Montreal-based literary magazine key to the establishment of modernism in Canada. Her first important publication, Unit of Five, an anthology published by Ryerson in 1944, was followed by an impressive series of books of poetry, fiction, and memoir that display a characteristic love of ideas and a distinctive use of language that have won her admirers around the world. Her contribution was recognized early, when The Metal and the Flower (McClelland and Stewart) won the Governor General's Award for Poetry for 1954. Her recent books of poetry include Hologram (1994), The Hidden Room: Collected Poems (1998), Hand Luggage (2006), The Filled Pen: Selected Non-fiction of P. K. Page (2006), and Up on the Roof (short fiction, 2007). Under the name P. K. Irwin, her paintings and drawings have been exhibited widely and are held in public and private collections across Canada.
For more information about the P. K. Page Founders' Award for Poetry and how you may support it through a donation, please email The Malahat Review.
Read an interview with John Reibetanz on his Founders' Award win.
Previous P.K. Page Founders Award for Poetry Winners
2014
2013
2012
2011
2010
2009
2008
2007