Jack Hodgins Founders' Award
for Fiction
2018 Winner: Jason Jobin
The University of Victoria, on behalf of The Malahat Review, is pleased to announce that this year's recipient of the Jack Hodgins Founders' Award for Fiction is Jason Jobin for his short story, "Before He Left," which appeared in the Malahat's Fiftieth-Anniversary Issue (#200). His story was chosen by award judge, Shauna Singh Baldwin.
Established in honour of the celebrated Victoria novelist's contribution to Canadian letters and to the University of Victoria, the Jack Hodgins Founders' Award for Fiction recognizes the excellence of The Malahat Review's contributors by awarding a prize of $1000 to the author of the best short story or novella to have appeared in the magazine during the previous calendar year. The winner, selected by an outside judge, is announced prior to the publication of The Malahat Review's Spring issue.
Of Jobin's story, Shauna Singh Baldwin says: "Caring parents Jan and Craig have tried to understand ten-year-old Billy's practice of Tibetan Buddhism...his opening his chakras in public, his disinterest in school work and now his sitting for two days beneath a Cedar tree, meditating. Humorous at first, the imaginative premise develops into a prose-song of growth and loss, exploring the helplessness that can creep over us as we face the unfamiliar, showing how two estranged people come together over a shared concern. This fine story reveals another layer or interpretation each time I read it; it stays with me."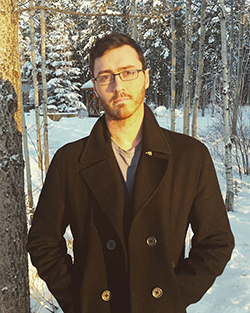 Jason Jobin's stories of have appeared in The Malahat Review and The Northern Review, though his long game involves novels. He did a BA and MFA in writing at the University of Victoria, where he has studied fiction, screenwriting, and hip hop. He's interested in music, meditation, style, and mentorship, sometimes all at once. For him, writing is a place to show the fallout of people in suddenly new situations, the moments that wake you up, and that you think back on when falling asleep. He likes to write serious comedies, stories about families gone awry, and characters wondering how to live. Born in Yukon, he now lives and writes in Victoria.
Shauna Singh Baldwin's short fiction has received the CBC Literary Prize, the Friends of America Prize, and the Writers Union of Canada Prize. Her collections are: English Lessons and other Stories and We Are Not in Pakistan: Stories. Her first novel What the Body Remembers was translated into fourteen languages. Her second, The Tiger Claw, was shortlisted for The Giller Prize. The Selector of Souls: a novel won the Anne Powers Fiction prize. Her play We Are So Different Now premiered in Canada in 2016. Reluctant Rebellions: new and selected non-fiction is her seventh book.  Shauna received her MBA from Marquette University, and her MFA from the University of British Columbia. See www.ShaunaSinghBaldwin.com
For more information about the Jack Hodgins Founders' Award for Fiction and how you may support it through a donation, please email The Malahat Review.
Read an interview with Jason Jobin on his story, "Before He Left."
Previous Jack Hodgins Founders' Award Winners
2017
2016
2015
2014
2013
2012
2011
2010
2009
2008
2007