Statement by River Halen Guri on the P. K. Page Founders' Award for Poetry and Legacies of Exclusion
I want to start off by saying thanks to Iain Higgins and The Malahat Review for allowing me to make this statement on their website and for welcoming whatever dialogue results from it.
A couple of weeks ago I got an email from Iain telling me I'd won the P. K. Page Founders' Award for my poem "Speech," which had appeared in The Malahat Review's Queer Perspectives issue a month before. Like anyone who's won something unexpected, my first reaction was to be really happy. To be read and recognized is always a good feeling, and I was especially glad that this poem—which is about genderqueer experience through the lens of childhood sexuality, about using the mechanisms of that weird period of radical imaginative private self-invention as a technique for confronting repression and power generally—was having a light shone on it. I was also of course glad for the $1000, which felt (and when isn't this the feeling) like it couldn't have come at a better time.
When I went to share the announcement that had been posted on The Malahat Review's site, I started clicking through the history of the P. K. Page Founders' Award. I learned that in its thirteen-year history the award has been given to white people in every year but one (Billy-Ray Belcourt won in 2017), and judged by white people exclusively. In my experience of Canadian literary institutions, this wasn't shocking to me, but it is still really gross as a fact. The award has also gone mostly to men (8.5 of them—the award was shared in one year, so I count that as 0.5—vs. 3.5 people of other genders).
The intensity of that racial exclusion has some effects I want to talk about. These aren't the only effects, but they are the ones I can speak to from my perspective. My first thought was that this list of mostly male, almost exclusively white winners with me at the recent end of it functioned as a complete erasure of my teachers. The writers who showed me, and continue to show me, that poetry can be a technology of survival, a place to make idiosyncratic music that heals and confronts, a place to listen to yourself without ulterior motive and address whom you actually want to reach—that I could do something other than churn out repressed cookie-cutter imitations of the poems I'd read in school and/or saw praised in mainstream venues—are mostly QTBIPOC [Queer, Trans*, Black, Indigenous, & People of Colour] writers. So to be honoured in a venue that sidelines them doesn't feel like much of an honour at all—it feels more like having the project I was working towards be misunderstood or co-opted towards another aim.
The exclusion I'm talking about is most bitter, obviously, for the writers excluded, whose main purpose, I want to be clear, isn't mentoring me/teaching me cool new tricks, but attending to their own interests, artistic practices, communities, etc. Exclusion like this forces BIPOC writers to make do with fewer resources and less public recognition, especially when they are starting out, and contributes to the phenomenon whereby some writers spend their entire careers designated as "emerging" when in fact they are masters of their craft. In a field like poetry, where both money and public recognition tend to be hard to come by, such a withholding of physical and emotional resources can stop careers before they start.
In light of all of this, I considered a couple of different actions. The one I've decided on, after a conversation with Iain in which he detailed recent changes in the way The Malahat Review is run (which include an explicit and tangible valuing of various kinds of diversity), is that I am going to make my acceptance of the P. K. Page Founders' Award conditional on a concrete change in the prize's judging.
Specifically, I want to see five (or more) consecutive years of BIPOC judges for this prize starting next year. Ideally, women, femmes, LGBTTIQ+ [Lesbian, Gay, Bisexual, Trans*, Two-Spirit, Intersex, Queer, & +] folks will be well represented, as will sick and disabled folks, people without class privilege, and people who bring any number of other intersecting perspectives to their reading. My aim in expressing this condition in print isn't to suggest that such a change wouldn't have happened anyway or that such a change needs me, specifically, to champion it. Neither do I mean to imply that such a change is the only or the best way to move forward from the history that exists. All I mean to do is make a suggestion in the direction of fairness and to create a mechanism for holding both myself and The Malahat Review accountable for pursuing it.
In February 2024 (I have marked it in my Google calendar), I will check in to make sure that (a) the prize has had five years of BIPOC judges and (b) that this was enough to begin to shift the culture of the prize (they had an ample and representative pool of writers to choose winners from, nothing unforeseen and totally shitty happened). If for whatever reason those two conditions aren't met, I will "return" the prize, by which I mean take mention of it out of my bio and ask to be removed from The Malahat Review's website. As for the money I will be donating the entirety of the amount over the course of the next year to a settlement reparations collective here in Tio'tia:ke (Montreal) that supports Indigenous folks who are struggling financially.
I extend an invitation to other white winners of this award (that's Steve McOrmond, Danny Jacobs, John Reibetanz and Jan Zwicky, Bruce Rice, Matthew Tierney, Patrick Friesen, Steven Heighton, Eve Joseph, Shane Rhodes, Jeff Latosik, and Jan Conn) to join me in paying out whatever portion of their prize money they can afford to an organization that supports decolonizing efforts and in pledging to remove their names from the award's backlist (and the award from their bios) if things haven't turned around by 2024.
Thanks so much to everyone who's read this far and again to The Malahat Review for making space for this. I welcome all good-faith responses, suggestions, and critique.
Editor's response to the statement
I want to thank River Halen Guri for their statement, for asking me to commit myself to transforming the magazine, and for seeking to hold us both accountable in time. We share the same goals, I believe. Here on the island where the magazine gets made, the Songhees, Esquimalt, and WSÁNEĆ elders and knowledge keepers counsel us to work in a good way, coming to things with a good mind and a good heart. Since I began as Editor in July 2018 I have been trying to work in such a way towards making the magazine more inclusive. The Malahat Review has not reached those goals, but I hope we have begun to get underway towards them. If a literary magazine can be imagined as a crossroads, as a temporary gathering place, a forum, a hostelry or inn, then it should in practice be an open, welcoming place where different people arrive from various directions, heading in various directions, and speaking to one another in diverse ways. That is what The Malahat Review aspires to be. As the magazine's Submittable webpage says, "the Editorial Boards are pleased to receive submissions from all writers who wish to send their work for consideration, including writers from communities normally under-represented in most literary magazines, in particular Indigenous writers, writers of colour, LGBTQIA2S?+ writers, and writers with disabilities." Like River, I welcome all good-faith responses, suggestions, and critique. - Iain Higgins
Matthew Tierney's response to the statement
River Halen Guri has pointed out the succession of white judges and (very mostly) white winners of the P.K. Page Founders' Awards. This homogeneity makes me uncomfortable. I have since had an email exchange with Iain Higgins, the new editor, to follow up on the explicit and tangible valuing that River makes mention of in their statement. Based on what I learned, I am confident that Iain is listening and is committed to being proactive; I expect that we will see a course correction in the P.K. Page poetry award shortly. Should no progress be made, I am open to revisiting my association with the award in the future. - Matthew Tierney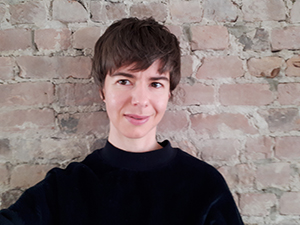 River Halen Guri is a queer non-binary writer, editor, and performer of Catalan and Danish descent living on unceded Indigenous land in Tio'tia:ke (Montreal). Their poems and essays dealing with relation, ecology, transformation, and sexuality have been published widely in Canada, as well as in the U.S., Australia, and in translation in Japan. They are the author of Match (Coach House, 2011), which was shortlisted for the Trillium Book Award for Poetry, as well as the chapbooks Here Come the Waterworks (Book*hug, 2015) and Some Animals and Their Housing Situations (The Elephants, 2018).
The P. K. Page Founders' Award for Poetry honours the celebrated Victoria poet's contribution to Canadian letters. It is made possible by a financial donation to The Malahat Review by P. K. Page in recognition of her long association with the magazine and as a gesture of her deep appreciation of her peers in the local and national literary communities.
Previous P.K. Page Founders' Award for Poetry Winners
2018
2017
2016
2015
2014
2013
2012
2011
2010
2009
2008
2007